Chequers Summit Riven by Cabinet Divisions, Times, Telegraph Say
(Bloomberg) -- U.K. Prime Minister Theresa May's Chequers summit to reach agreement with her cabinet on a plan for leaving the European Union was marked by stark divisions on the best way to proceed, two newspapers said.
Andrea Leadsom, the leader of Parliament's lower house, told ministers that she "hated" May's proposal to retain many of the U.K.'s economic links with the EU, The Times reported Saturday. Chancellor of the Exchequer Philip Hammond and Home Secretary Sajid Javid, meanwhile, were at odds over whether offering preferential immigration status to EU nationals should be among post-Brexit options, with Hammond pushing to leave the possibility open, according to The Daily Telegraph.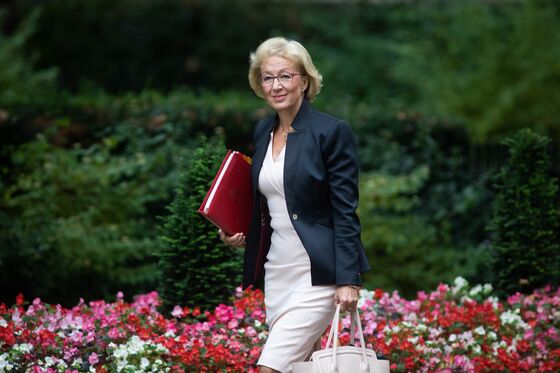 The reports, citing minutes of the July 6 meeting circulated to members of parliament. may add to concerns that May's inner circle remains sharply divided over how to implement Brexit, despite endorsements in public of the plan worked out at the prime minister's country residence. After the meeting, Brexit Secretary David Davis and Foreign Secretary Boris Johnson quit, both saying they couldn't support a future arrangement that would restrict the U.K.'s ability to direct its own trade policies.
Leadsom, a staunch Brexit supporter who vied with May for the party leadership after Prime Minister David Cameron's 2016 resignation, believed the Chequers proposal was "not being true to the 17.2 million people who had voted for Brexit," The Times said, citing the minutes. The Telegraph said Javid and Hammond's disagreement centered on whether "preferential mobility arrangements" in a future trade deal with Brussels should be a point to negotiate.
May's government on July 12 laid out its formal Brexit proposals in a 98-page paper that proposed keeping the U.K. tied to EU rules for goods while allowing it to develop its own regulations for services. On Friday, the EU's chief negotiator, Michel Barnier, said parts of the paper "open the way to a constructive discussion." However, he said, "we've all seen this debate in the U.K. is not over yet."