U.K. Sees Macron as Key to Getting Brexit Deal With EU
(Bloomberg) -- Britain sees convincing France as key to getting a Brexit deal and the Chancellor of the Exchequer will target his French counterpart this weekend.
The U.K. government thinks that persuading French President Emmanuel Macron of the benefits of its Brexit vision will be crucial to getting other European Union countries like Germany onside, according to a person familiar with the matter. France has often been among the countries taking the most hardline stance against the U.K.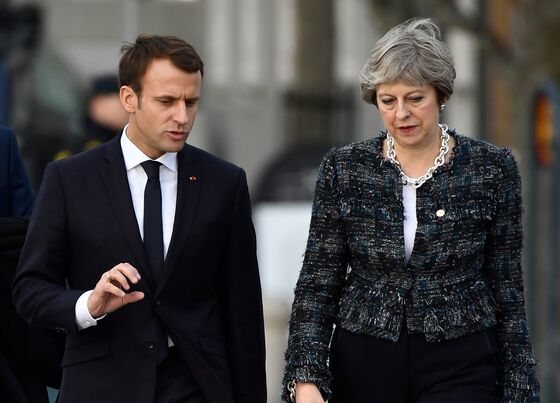 This weekend, Chancellor Philip Hammond will travel to Buenos Aires for the latest round of Group of 20 finance minister meetings. While there, he's expected to meet with Bruno Le Maire, the French finance minister and explain the details of the U.K.'s Brexit blueprint, said the person, who asked not to be named because the matter was confidential.
After almost two years of infighting, Prime Minister Theresa May's Cabinet agreed this month on a plan for Brexit, set out in a so-called white paper that it sees as a starting point for negotiations with Brussels. Chief EU negotiator Michel Barnier will meet EU ministers on Friday to discuss the proposals, and will brief reporters at 1 p.m. Brussels time.
The white paper calls for the U.K. to stay close to the bloc's rules for goods but not services --- an approach the EU sees as a possible threat to the integrity of its single market. The plan drops a previous U.K. proposal for financial companies to be able operate in each other's markets on the basis of "mutual recognition" of regulation. That proposal had already been rejected by the EU.
The U.K. is now opting for a system that will give banks less freedom to operate in the bloc and some banks and industry groups have criticized the move. The person said that big banks had been well prepared for the new British position and shouldn't have been surprised.
The government accepts that banks will lose EU business over time, but expects that this will be offset by work from faster-growing markets elsewhere.