Microsoft Surges to Record High as Wall Street Cheers the Cloud
(Bloomberg) -- Microsoft Corp.'s foray into cloud technologies is paying off after revenue for the fiscal fourth quarter bested the highest of analysts' estimates.
Thanks to the growing adoption of Microsoft's cloud offering, Wall Street is rewarding the Redmond, Washington-based software provider with buy reiterations and price target increases. Goldman Sachs, while boosting its price target to $125 from $114, said the company's bring-your-own-licence program is "starting to bear fruit."
Jefferies, on the other hand, one of the two bears with the equivalent of sell ratings tracked by Bloomberg, questioned the ultimate margins of Microsoft's cloud computing service known as Azure. Nonetheless, company shares opened up 3.5 percent, setting a new record high above $108.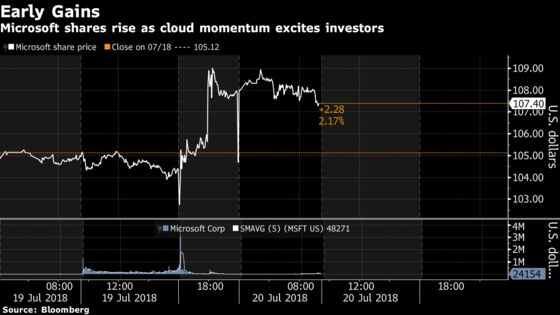 Here's what Wall Street is saying:
Goldman Sachs, Heather Bellini
The tech provider's fourth-quarter earnings were strong across the board; and Microsoft's "positioning as the leading hybrid cloud provider continued to build momentum as its server and cloud services revenue growth accelerated to its highest pace on record."
"We see the benefits from Microsoft's bring your own license program as starting to bear fruit as partners highlight enterprise agreement renewals at higher net expansion levels than in recent years," writes Bellini in a note.
Looking ahead, Goldman Sachs anticipates "sustainable double digit EPS growth over the next few years."
Reiterates buy rating, raises price target to $125 from $114
Sees "multiple positives" from the quarter that can support sustained double digit growth in revenues, earning per share and free cash flow long term.
Despite some headwinds to gross margin, Bank of America continues to expect gross margin upside as it believes growth in the infrastructure-as-a-service offering should drive faster adoption of higher margin premium services.
Maintains buy rating, increases price target to $134 from $130
Raymond James, Michael Turits
The growth and share gains in Microsoft's Azure support field checks indicating an emerging duopoly with Amazon Web Services.
Raymond James is raising its fiscal 2019 and 2020 revenue and earnings-per-share estimates, given Microsoft's revenue beat and raise, and strong 2019 guidance for fiscal 2019 including a lower tax rate.
Keeps strong buy rating, boosts price target to $126 from $124
Piper Jaffray, Alex Zukin
Microsoft had "very strong finish to its fiscal year," and "meaningfully" outperformed commercial cloud bookings expectations. This was "even more meaningful given the largest sales reorg in the company's history earlier in the year."
Piper Jaffray has "meaningfully increased" its original estimates for the Azure business to better reflect management's sentiment.
"We believe the company remains comfortable with large scale M&A," Zukin writes.
Overweight, raises price target to $130 from $123
Microsoft "has executed on its plan to become a meaningful cloud vendor, though it's still early in the development of that market – and model," writes DiFucci in a note.
DiFucci wonders if the "unprecedented Windows outperformance" relative to personal computer shipments is sustainable, while also questioning the ultimate margins of Azure.
Given the competitive market and need to invest in both capital expenditure and operating expenses, Jefferies believes profitability along the level of Amazon Web Services "may prove elusive for Azure for several years, if not forever."
Underperform, price target $75