Skechers Falls 26% After Same-Store Sales Growth Misses Estimates
(Bloomberg) -- Skechers fell as much as 26 percent in late trading Thursday amid concerns over slowing growth, rising costs and lower-than-expected projections.
The footwear company reported that same-store sales increased 4.5 percent, less than the 5.2 percent analysts anticipated, according to Consensus Metrix. Total sales of $1.13 billion were in line with expectations.
The results continue a trend of volatility for the Manhattan Beach, California-based company, which is spending aggressively to fuel rapid expansion, especially overseas.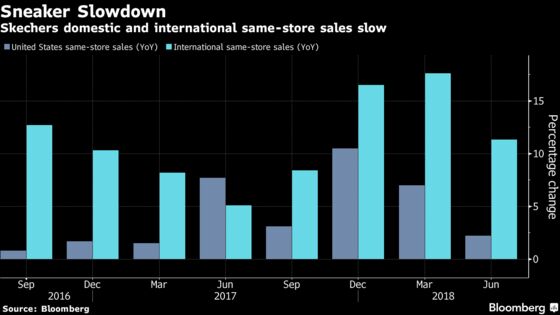 Last October, shares surged 41 percent after the company reported strong international growth and wider profit margins. In April, shares dropped 29 percent due to concerns about cost of keeping up with international growth.
Those fears have bled into the second quarter. While sales rose 10.6 percent from a year earlier, driven by steady demand overseas, expenses also rose 19.7 percent in the same period.
Skechers' third-quarter guidance suggested more of the same. The company forecasts earnings, excluding some items, of $0.50 to $0.55 compared with an average estimate of $0.68.