Saudi Aramco's Strange Chemical Attraction
(Bloomberg Opinion) -- Saudi Aramco's IPO may be on hold, but that doesn't mean its bankers are idle.
It emerged on Thursday that the state-owned oil champion — full name: Saudi Arabian Oil Co. — is considering buying a stake in Saudi Basic Industries Corp., or Sabic, a giant chemicals firm.
From a banker's perspective, such a deal is a gift — not least from a logistical perspective, since everyone involved is within easy reach of each other and largely answers to the same ultimate boss. Aramco is, of course, state-owned. Sabic, meanwhile, is 70 percent owned by Saudi Arabia's Public Investment Fund (PIF) — or, for brevity's sake, the state. The other 30 percent of Sabic is listed; indeed, with a market cap of about $104 billion, it's the country's largest listed company. But any purchase would involve only shares owned by the PIF, not traded on the Tadawul.
As my colleagues Javier Blas and Wael Mahdi wrote here, such a deal could allow the Saudi Arabian state to effectively transfer money from one pocket to the other. The PIF could convert part of its holding in Sabic to cash provided by Aramco, which could then presumably be deployed to other pursuits.
But there are wider implications here — not least for Aramco's own privatization.
Aramco's IPO was the headline on then-deputy crown prince Mohammed bin Salman's PR drive for Saudi Arabian reform (he is now the country's de facto ruler). Selling part of the country's industrial and technocratic jewel was, besides a means of raising money, supposed to show a commitment to shifting to a more dynamic, diverse economy, less dependent on bureaucrats and better able to withstand the ups and downs of oil.
Two years on, it's fair to say having the biggest state-owned corporation buy a stake in the biggest partly listed corporation from the country's own sovereign wealth fund isn't exactly a bold step in that direction.
From the perspective of a theoretical outside investor in Aramco, spending billions on a stake in Sabic isn't ideal. Sabic's net income in the 12 months ending March 2018 was $5.6 billion, only one-sixth of what Aramco made in just the first half of 2017 (when oil prices were lower). That wouldn't come close to moving this needle and would raise Aramco's risk premium.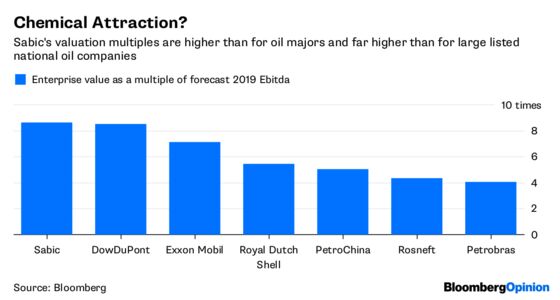 As I argued here, besides long-term oil-price assumptions, the single biggest factor affecting Aramco's IPO valuation is that risk premium, or the free-cash-flow yield demanded by investors. In my model, a 1 percentage point move up wiped out roughly $175-$250 billion of value.
And the biggest factor pushing the yield up would be a perception that, even sporting a ticker, Aramco would remain in essence an arm of the state (the same thing weighs on other listed national oil companies). It's difficult to imagine a deal better suited to reinforcing this, especially as completing it would delay the IPO even further.
That said, it may not necessarily rule out some sort of IPO in the future. Sabic has long benefited from subsidized raw materials such as capped natural gas prices from its bigger brother. From Aramco's perspective, controlling Sabic's petrochemicals operations — a natural extension of the integrated oil and gas business — and capturing the value of those raw materials must be far more alluring than the rigmarole of going through a privatization. Should Sabic eventually come under Aramco's control, it might ultimately sell shares in a bigger, more valuable downstream business.
But that's just speculation. For now, what this deal would represent is Aramco consolidating and entrenching its position further within the Saudi Arabian state, in contrast to the government's messaging of the past couple of years. That, in turn, suggests the real headline-grabber, the IPO of Aramco itself, looks an even more distant prospect. 
Liam Denning is a Bloomberg Opinion columnist covering energy, mining and commodities. He previously was editor of the Wall Street Journal's Heard on the Street column and wrote for the Financial Times' Lex column. He was also an investment banker.