Publicis Drops on Sales Slump, Compounding Ad Industry Woes
(Bloomberg) -- Publicis Groupe SA plunged the most in almost three years after posting a surprise sales decline in the second quarter, adding to evidence that the advertising industry is mired in a slump sparked by the shift to digital media.
Organic revenue, a measure that strips out the effects of deals and currency swings, slipped 2.1 percent in the period, the company said on Thursday. A volatile U.S. health-care business and new privacy rules in Europe, known as the General Data Protection Regulation, contributed to the sluggish results.
The Publicis downturn brings a fresh headache to Chief Executive Officer Arthur Sadoun, who took the helm from Maurice Levy just over a year ago. He's already facing upheaval in the advertising industry stemming from increased competition with consulting companies like Accenture Plc and technology giants such as Alphabet Inc.'s Google.
The results were "very disappointing," Conor O'Shea, an analyst at Kepler Cheuvreux, said by email. Factors such as the GDPR disruption and the health-care business are potentially temporary, he said, but the "credibility of the unchanged second-half outlook at the moment is low."
The stock fell as much as 10 percent in Paris, the steepest intraday decline since Oct. 22, 2015, and was trading 7 percent lower at 52.32 euros at 11:52 a.m. London-based rival WPP Plc fell 3.8 percent.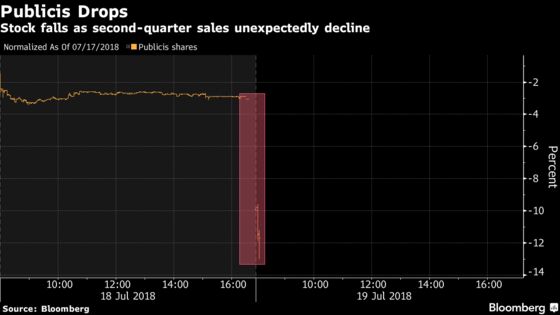 The news from the Paris-based company followed disappointing sales from U.S. rival Omnicom Group Inc. this week. Its results marked the "worst organic growth in North America since the recession," according to Goldman Sachs Group Inc., and sent stocks sliding across the industry.
The signals of faltering sales from Omnicom and Publicis don't bode well for WPP half-year results, due Sept. 4, O'Shea said.
Analysts had expected organic growth of 1.1 percent for Publicis last quarter. But the company's business with health sales representatives -- mostly in the U.S. -- was particularly "volatile," Sadoun said. It trimmed 30 million euros ($35 million) from revenue in the first half, Sadoun said, adding that Publicis has launched a strategic review of this "noncore" asset.
Revenue also was hurt by the adoption of European data-protection rules. That implementation temporarily suspended "several" campaigns amid uncertainty surrounding the collection of consumer consent over the internet.
However, Sadoun was confident the company is on the right track to deliver on its plan laid out at its investors' day this year.
"We are committed to transform Publicis," he told reporters in Paris. "We are on track to deliver organic growth and expand our margin in 2018."
Publicis's operating-margin rate rose to 14.3 percent from 13.7 percent a year ago. Sadoun was also upbeat about the 27 percent growth of its "strategic game changers," which include data and digital business-transformation units. That segment represents 10 percent of its total revenue, but will eventually be the "core" of its offer in the future, Sadoun said.
Publicis also won a few contracts from WPP during the first half, notably Marriott International and Procter & Gamble Co. in Australia. The ad industry was shaken by the abrupt departure of WPP founder Martin Sorrell this year following allegations that he misused company funds.
Publicis has also gained accounts from Omnicom during the period, notably Daimler AG and Campbell Soup Co., Sadoun said.