Nordea Reaps Reward of Strategy Upheaval After a Punishing Year
(Bloomberg) -- The Nordic region's biggest bank finally won the market's approval for its efforts to become a leaner, more digital business, with the improvement in second-quarter results triggering a rare share-price gain.
Nordea Bank AB reported profit for the three months through June that beat analyst estimates. Costs declined from a year earlier, and management said it expects to make more money this year than it did in 2017.
Click here for more on Nordea's 2Q earnings, and here for the full report.
The second-quarter results "showed a marked improvement from recent quarters and surprised positively," analysts at DNB Markets said in a client note. At Morgan Stanley, analysts focused on "encouraging" signs of a turnaround, with Nordea performing better than expected on costs and provisions.
Shares in the bank opened more than 3 percent higher in the Swedish capital, marking the first time in five quarters that Nordea's results were met with a positive market reaction.
Read more about the market's reaction to Nordea earnings in previous quarters
Chief Executive Officer Casper von Koskull said efforts to transform Nordea into a tighter operation that relies more on the latest technology are starting to bear fruit. With most of the bank's major projects now "largely" behind it, including efforts to shed riskier businesses, it's clear that "underlying income is now improving," the CEO said in an interview with Bloomberg Television's Anna Edwards and Manus Cranny.
More than any other major bank in the region, Nordea has focused on revamping its operations to prepare for the digital age. Von Koskull said last year that part of that focus requires cutting about 6,000 jobs, including 4,000 full-time staff, as humans make way for technology. According to Thursday's report, there are now about 2,500 fewer employees at Nordea than there were a year ago, bringing staff numbers to roughly 29,300.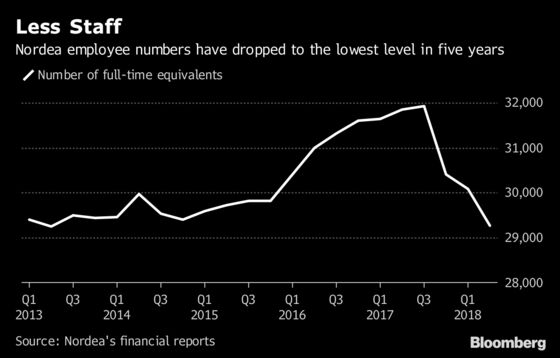 Nordea will soon be based in Helsinki, as the only global systemically important bank in the Nordic region moves its headquarters into the euro zone and under the supervision of the European Central Bank. Von Koskull has said the relocation gives the bank a more predictable regulatory environment, after Nordea criticized Sweden's tougher standards on everything from capital adequacy to its ambitions with the state resolution fund.
Nordea's plans to be inside the European banking union by Oct. 1 are "on track," after the lender was awarded a banking license by the ECB last month, von Koskull said.
ECB Grants Banking License to Nordea Holding Ahead of HQ Move
Despite a period of heavy investment, the bank is committed to a "progressive" dividend policy, the CEO said. Management expects to make more money this year than it did last year, though it toned down the bank's revenue outlook.
"Although we expect some modest growth for the remainder of the year, given the slower first half of 2018, it is unlikely that the repeating revenues in 2018 will reach the 2017 level," von Koskull said. "But we still expect to report higher net profit in 2018 versus 2017."
In its report for the first quarter, Nordea had already signaled its forecast for slightly higher revenue in 2018 would be difficult to achieve.
Nordea is "on track" to meet its cost guidance while loan losses "in the coming quarters are expected to be lower than the long-term average," the bank said.