Brexit Bulletin: No More Indigestion
(Bloomberg) -- Today in Brexit: Dominic Raab and Michel Barnier hold their first meeting. It takes place amid growing Brexit gloom.
It might not be a Donald Trump/Vladimir Putin-type showdown, but today's first meeting between the U.K.'s new Brexit secretary and his European Union counterpart represents a fresh chapter in the negotiations. Dominic Raab and Michel Barnier will meet in the European Commission in Brussels at 5 p.m. before heading to the ornate, 19th-century surroundings of the British ambassador's residence for dinner.
Barnier, 67, and Raab's predecessor, David Davis, 69—who resigned last week after saying he couldn't back the government's post-Brexit blueprint—had little in common, politically or personally, but they'd grown to respect each other. The Frenchman might find something of a kindred spirit in Raab, 44, despite the age gap. Both men share a love of exercise and healthy eating. (Barnier swims regularly; Raab is a Karate black belt and gym fanatic.) It's unlikely that Raab will repeat Davis's faux pas of serving Barnier a heavy meal of beef Wellington with English wine.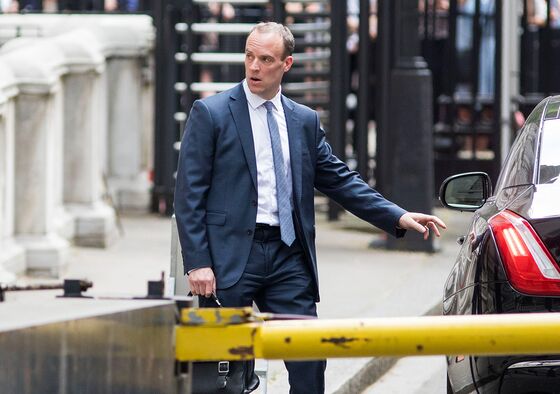 But they meet at a time when the Brexit process seems at its most fragile. Following half a week of tumult in the U.K. Parliament, EU officials talk ominously of darkening skies and of no-deal looming. It's not that the government's "white paper" or any of the amendments voted subsequently scupper the chances of agreement, but rather that the EU side sees Prime Minister Theresa May's room for maneuver getting ever tinier.
The ambitions for the Brexit agreement are becoming smaller, too. It wasn't very long ago that British Brexiteers were talking of a full-scale trade deal by the time the U.K. leaves in March 2019. While that was always unrealistic, there was will on both sides to get a detailed vision of the future nailed down this year that would then need only flesh added to the bones during the 21-month transition period.
Now, however, the focus in Brussels is increasingly on getting agreement on the Irish border "backstop" insurance policy (to prevent a hard border before a future trade deal is in place)—at least to get the Brexit withdrawal treaty over the line to allow the transition to actually happen.
But will that be enough to satisfy the Brexiteers? Boris Johnson, who quit as foreign secretary shortly after Davis, said in his resignation speech in Parliament Wednesday that even May's white paper represented "Brexit in name only," and that's before the EU tries to soften the U.K.'s position further.
The following few months will be full of even ifs. Even if the EU can rewrite its backstop in a way that makes it more palatable to the U.K., and even if the government can then sell it to the hardline Brexiteers and Northern Ireland's DUP, and even if the rest of the withdrawal agreement then slots into place…
Will that be enough to keep everyone happy, even if the future relationship agreement isn't as detailed as many would hope? Those are the type of questions Raab and Barnier will chew over this evening. The food might be healthy but don't rule out indigestion.
May looks like she has survived until September. With only six days left until lawmakers disappear for the summer, the prospects of an immediate challenge to her leadership seem to be receding.
An extensive Bloomberg survey of the EU's 27 remaining governments has revealed a mixed picture of preparedness for a no-deal Brexit. Belgium and the Netherlands lead the way, with Greece and Italy more relaxed.
Don't expect the Labour party to do a better job at Brexit than the Conservatives, Bloomberg's Therese Raphael says in an opinion piece.
Here We Go Again | Sterling could slump as much as 8 percent against the dollar if the U.K. doesn't clinch a deal with the EU by March 29, according to a survey of analysts. That would mirror the 8.1 percent drop the pound saw on June 24, 2016, the day after Britain voted to leave. A no-deal Brexit is still regarded as a somewhat low-probability outcome, with the poll assigning a 20 percent chance to it.
No Answer | May said the "majority" of arrangements required for her proposed post-Brexit Facilitated Customs Agreement will be in place by December 2020, when the U.K.'s exit transition period ends. She tied herself in knots, though, explaining how it would work to the U.K. Parliament's Liaison Committee. She also said the government would send out around 70 technical notifications to "set out what U.K. citizens and businesses need to do in a no-deal scenario."
In the Skies | EU negotiators have indicated they want an agreement for airlines regardless of wider accord on Britain leaving bloc. "I expect, come what may, that we will have a sensible agreement on aviation," Transport Secretary Chris Grayling said Wednesday. Meanwhile, Airbus Chief Executive Officer Tom Enders criticized the "unraveling" Brexit plan, saying the company will stockpile parts to insure against border delays after Brexit.
Work Ahead | German Chancellor Angela Merkel's chief spokesman said the October deadline for the Brexit deal was "ambitious." Back in the U.K. Parliament on Wednesday, arch Brexiteer lawmaker Bill Cash asked May if she'd broken the ministerial code by showing Merkel her Brexit blueprint before it was approved by Cabinet. May said she didn't take copies of the document out of the country to show other people.
Clearing Off | The Depository Trust & Clearing Corp. said it's setting up a new branch in Dublin ahead of Brexit to ensure it can continue to provide services for EU clients.
Pointlessly Difficult | The U.K.'s chances of a good Brexit deal "look slim," according to former British negotiator Steve Bullock, writing in the New Statesman. The government made things "pointlessly difficult," he said. He concluded: "This government's plan is to walk out of negotiations, which will, of course, be a catastrophe for the U.K. And all for want of a little humility, trust, honesty, organization and understanding."