Trump Trash Talk Can't Touch NFL, Packers Financials Reveal
(Bloomberg) -- The National Football League distributed a record $8.1 billion to its teams last season, up almost 5 percent from 2016, according to a financial disclosure by the Green Bay Packers.
Packers President Mark Murphy said he saw no negative financial consequences related to the off-field tumult of the 2017 season, which included public criticism from President Donald Trump, declining TV ratings and player protests during the national anthem that polarized fans across the country.
The boost in national revenue came from incremental raises built into the NFL's media deals, Murphy said. The league also enlarged the pot with its Amazon streaming deal, which was worth about $50 million. The NFL has since extended that agreement for two years and $130 million.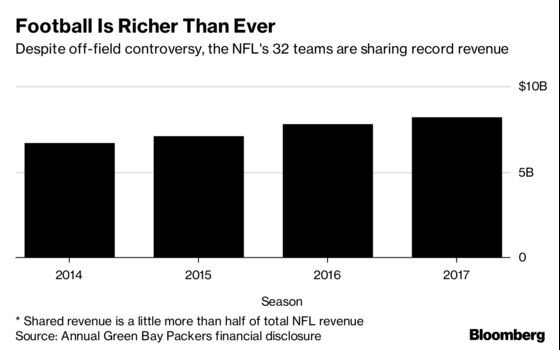 Green Bay Packers Inc. is the only publicly owned franchise in major U.S. sports, and their annual disclosure has become the only regular glimpse into the financial health of the NFL. The league gave up its tax-exempt status in 2015 and no longer has to release financial information such as Commissioner Roger Goodell's annual salary.
The $8.1 billion is just one piece of the league's overall revenue, which was estimated at $14 billion last year, the most of any professional league worldwide. Goodell has said he would like the league to reach $25 billion by 2027, growth that will hinge largely on how the league navigates a rapidly changing media landscape. NFL ratings are down, but not as much as TV viewership in general. The league's current major TV deals with FOX, CBS and NBC extend through the 2022 season.
The Packers's local revenue -- the money teams are allowed to keep for themselves -- was a franchise-record $199 million, up from $197.4 million in 2016. While sponsorship and game-day revenues were up, the team failed to make the playoffs for the first time since 2008. Murphy said the disappointing season slowed local revenue growth and fewer people visited Lambeau Field for its Hall of Fame banquet weekend or summer tours.
The team's total revenue rose to a record $454.9 million, marking at least the 15th consecutive year of growth. Green Bay's operating profit, which fluctuates due to stadium renovations and the cyclical nature of player salaries, was $34.1 million.