Salvini Hints at EU Vetoes Unless Sanctions on Russia Are Eased
(Bloomberg) -- Italy's deputy prime minister, Matteo Salvini, said he will push the European Union to ease sanctions on Russia and threatened to block the EU's agenda if he doesn't get his way.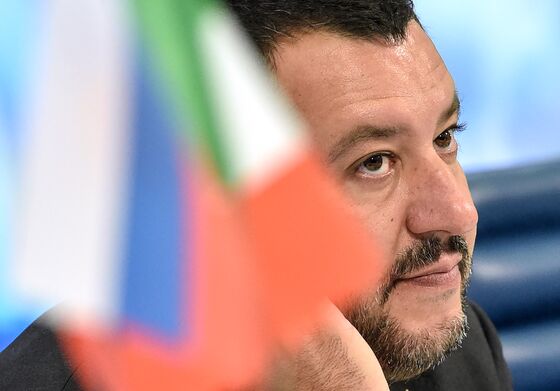 At a press conference in Moscow, Salvini, who is also interior minister, said Russia should be brought back into the "European family" and that Monday's meeting between U.S. President Donald Trump and Russia's Vladimir Putin is a "wonderful start." He said he'd held talks with Russian ministers and executives, without giving any further details.
"We hope we will be able to convince other governments with democracy and convincing numbers," he said. "Vetoes are only a last resort but I am not excluding anything."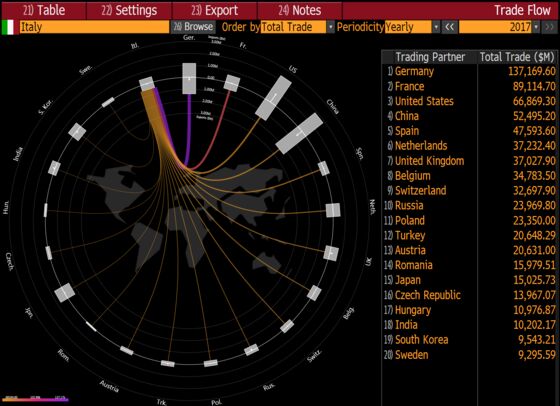 The EU and the U.S. imposed sanctions on Russia and kicked it out of the G-8 group of leading nations in 2014 in response to its annexation of Ukraine's Crimean peninsula. Salvini said that Italy has been the biggest loser from the EU measures. Trump is under pressure to confront his Russian counterpart over Kremlin meddling in the 2016 U.S. presidential election during a 90-minute one-on-one session in Helsinki.
"Meetings and dialogue are much better than sanctions," Salvini said, echoing Trump's call for Russia to be readmitted to G-8 meetings. "They have a right to seat with the most powerful leaders."
Salvini also said that Italy is not seeking an exit from Europe's currency union.
"We are giving the European Union a last chance to continue to exist as it is," he said.