Riskiest Subprime Auto Debt Buyers Shrug Off Lending Worries
(Bloomberg) -- Rising consumer debt and more loan defaults aren't proving to be a problem for investors in the riskiest subprime-auto bonds, where spreads have tightened more than higher-rated securities.
Spreads on B rated notes, the lowest rated of recent subprime-auto ABS, contracted by 68 basis points from April to June compared with 20 basis points for BB- rated bonds, the next higher rating grade, while AAA notes didn't tighten at all, according to data provider Intercontinental Exchange (ICE) Data Services. This has helped junk-rated subprime-auto securities to outperform investment-grade asset-backed bonds in both the primary and secondary market, the data show.
"The trend has generally been tighter spreads, especially for the non-investment grade tranches," said David Varano, director of market research and strategy at ICE, on a telephone interview. "In several new issuances recently, single Bs and BBs came through price talk. This is a positive signal, in terms of demand."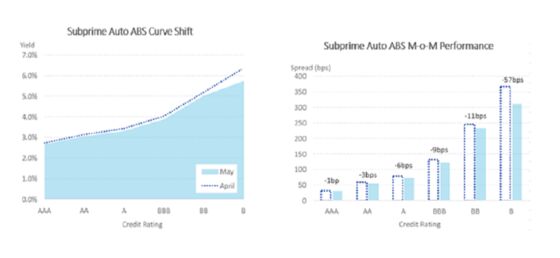 (Source: ICE Data Services, data shown runs April to May.)
"We think this emerging trend highlights just how much risk some investors are willing to take in the current environment," Kroll analysts wrote in their midyear outlook report. These deeply subordinated tranches have "little in the way of credit protection," and yet they are pricing tighter and tighter, they wrote.
Debt has been rising in many areas of consumer lending, such as credit cards, student loans as well as auto loans, and this "aggressive growth" in unsecured lending "is particularly alarming as competition intensifies and new lenders flood the space," analysts at Fitch Ratings wrote in a June 28 report. However, autos' residual values may be helped by slowing sales while lenders are applying stricter credit standards, the analysts wrote.
Subprime issuer Exeter Finance is currently marketing an auto bond to investors that includes a small B rated tranche, and in June, American Credit Acceptance also sold a single-B slice of its deal, which tightened at pricing on strong investor demand.
This will be Exeter's first time issuing a tranche rated as low as B in one of its subprime-auto securitizations, according to data compiled by Bloomberg. In the past, the company's ABS has only been rated down to BB.
Price guidance levels for the current deal, released yesterday, show that a B rated tranche is expected to price at 350 to 365 basis points over a benchmark -- which may be a tighter spread than where a higher-rated BB tranche for a similar Exeter deal from last September ended up pricing.
Issuance volumes are relatively small but growing, with $197 million of B rated subprime-auto bonds in the first half of the year, compared with nothing last year, according to Kroll Bond Ratings. The annual average has been just $20 million since the financial crisis, Barclays analyst Alin Florea wrote in a June research note.
Delinquency rates for subprime auto loans more than 60 days past due have been gradually rising since 2011, according to Fitch Ratings, reaching a peak in February of 5.8 percent, its highest level since 1996. The rate has since fallen to about 4.08%.
Investors may continue to take increased credit risk in lower-rated asset-backed bonds during the second half of the year in order to pick up incremental yield, although only modest spread-tightening upside remains, Wells Fargo analysts wrote in a June 27 report. They said investors should be selective when adding subordinated bonds, sticking to only "best-in-class" issuers due to "potential valuation risks" and risk of spread volatility.
For issuers, selling lower-rated bonds may be a faster way to monetize their loan portfolios, helping them guard against uncertainty further in the future.
"I view the increased issuance of lower-rated tranches as an option exercised by issuers to increase the up-front monetization of their securitization," said Jason Merrill, a structured finance analyst at Penn Mutual Asset Management. "If issuers and first-loss piece holders are increasingly opting for more up-front monetization via more single B tranches, and so forth, then I think it speaks to their view that perhaps there is increasing uncertainty regarding those future cash flows."