Millionaire College Presidents Get Whacked by Trump
(Bloomberg) -- When President Donald Trump signed the tax bill in December, it was clear that some of America's highest-earning college presidents would be singled out. The law includes a 21 percent excise tax applied when employees of tax-exempt organizations are compensated with packages of $1 million a year or more.
Now it's clearer who that might be.
Twelve men and women who headed public universities in fiscal 2017 had compensation of at least $1 million, according to the latest annual study by the Chronicle of Higher Education. The tax -- which grew out of a broader backlash against high-paid executives at nonprofits, including hospitals and other institutions -- takes effect this year, along with one on college endowments that affects about 30 schools.
For those who continue in their jobs at the same or greater compensation, their schools will be subject to the 21 percent bite. Compensation includes base and bonus pay, nontaxable benefits, deferred compensation paid out and severance and retirement pay.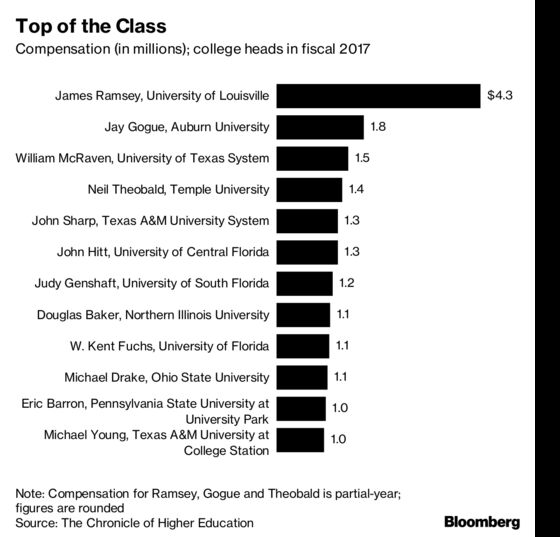 Quite a few have already left their posts. The former chiefs on the list include James Ramsey of University of Louisville, Jay Gogue of Auburn University, William McRaven of University of Texas System, Neil Theobald of Temple University, John Hitt of University of Central Florida and Douglas Baker of Northern Illinois University. Ramsey's $4.3 million package is the second-largest for the president of a public university, according to data collected by the Chronicle since 2008. E. Gordon Gee earned $5 million in fiscal 2013, his last year as president of Ohio State.
Average compensation for those serving the full year at the 220 schools in the Chronicle's study was almost $560,000, a 5 percent increase from fiscal 2016's average. The number of college heads taking home $1 million or more was up from eight in fiscal 2016 and five in 2015. The fiscal year generally ends June 30.
The tax also could kick in for sports coaches and endowment managers, who may earn more than college presidents.
Many college heads have deferred-compensation packages, a common retention strategy.