Nomura Outplays Goldman, UBS in World Cup Winner Predictions
(Bloomberg) -- Dozens of thousands of simulations proved no use for banks trying to predict the outcome of the World Cup -- with one exception.
Nomura Holdings Inc. was the only one of six financial institutions that correctly guessed France would lift the trophy at the Luzhniki Stadium Sunday in Moscow. And none of the banks got more than one right when predicting the top four teams in a tournament marked by underdog wins and early exits for top-seeded nations.
Nomura, which had expected Brazil and Spain to also make it to the semi-finals, said it made predictions based on the value of players in each team, momentum of team performance and historical achievements. The inexperience of Didier Deschamps's players was offset by a relatively easy group, low volatility in players' values and the fact that the roster was the most expensive in the tournament, according the bank.
"There are not many certainties in life, but one thing we can promise: This is the best guide to the World Cup that you will read from a Japanese bank that is collectively authored by Swedish, Polish, English, Brazilian and Japanese authors," Nomura said in the beginning of its report from June 8, signed by Bilal Hafeez, Farhaad Mallu, Henrik Gullberg, Joao Pedro Ribeiro, Marcin Kujawski and Shinya Harui.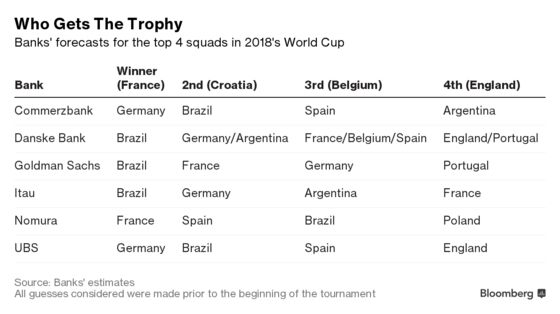 Brazil-Germany was by far the most common guess for the final game. Itau Unibanco Holding SA, Brazil's largest bank by market value, and Goldman Sachs Group Inc. bet the South American nation would get its revenge for the traumatic 7-1 loss in 2014. Commerzbank AG and UBS Group AG, meanwhile, said the Germans would bring the trophy home for the second time in a row.
But things quickly went awry. Germany left in the group phase after a 2-0 loss to South Korea. One by one, Lionel Messi's Argentina, Cristiano Ronaldo's Portugal, Andres Iniesta's Spain and Neymar's Brazil followed, all eliminated before the semifinals.
Analysts relied on different strategies to calculate each team's odds. Goldman Sachs said it used 200,000 statistical models, data on individual players and recent team performance, running 1 million simulations. UBS ran a computer simulation of the tournament 10,000 times, deploying a team of 18 analysts and editors. Commerzbank took into account world rankings, track record at previous World Cups, home bias and number of goals scored in the tournament over the years. They also ran 10,000 simulations on each game. Danske Bank weighed economic variables such as GDP per capita into the equation.