Has Deutsche Bank Finally Found a Lucky General?
(Bloomberg Opinion) -- Stop all the clocks. Deutsche Bank AG has a positive surprise for investors: Second-quarter earnings will be better than analysts had feared. You'd be unwise to mark this as a turning point, but it's a rare break from the relentless diet of grim news emanating from Germany's biggest lender.
Net income will be about 400 million euros ($468 million) in the second quarter, on revenue of 6.6 billion euros, the bank said in a statement on Monday. That's more than the 6.4 billion euros estimated by analysts. Even better, its common equity Tier one ratio – a key measure of financial health – is expected to have reached 13.6 percent at the end of June, better than the 13.3 percent hoped for.
These numbers were enough to send the shares to their biggest intra-day gain in two years. That still only brings the stock back to where it was in May, and it remains the worst performer in the Bloomberg Europe Banks and Financial Services Index this year after Italy's Banca Monte dei Paschi di Siena Spa.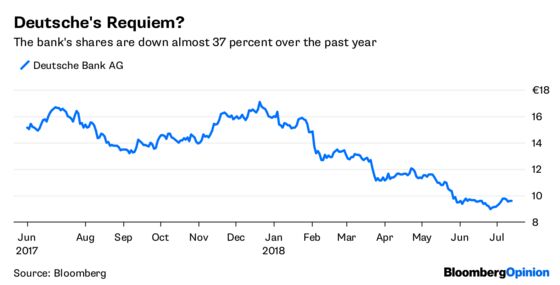 It's important to stress that these are only preliminary figures, and it's far from clear that they're sustainable. The new CEO Christian Sewing was helped by a 100 million-euro gain on an asset sale and some strangely perverse accounting rules that let the bank book a gain when its bonds perform badly.
Sales and trading revenue at the corporate and investment bank fell 15 percent over the past year. According to Barclays analysts, that implies a result for the division that is about 5 percent weaker than consensus and worse than what rivals JPMorgan Chase & Co. and Citigroup Inc. have reported. And to put Deutsche's group net income in context, analysts expect fellow European struggler Barclays Plc to exceed 819 million pounds in the same period.
We still don't know if the new boss can cut costs without gutting revenue. But it's a fortunate start for Sewing, who hadn't exactly wowed investors. For the long-suffering Deutsche shareholders, a lucky general is far preferable to one miserable defeat after another.