Brexit Bulletin: Show of Strength
(Bloomberg) -- Today in Brexit: Pro-Brexit hardliners are planning a show of strength this week in a bid to force Theresa May to change direction.
Prime Minister Theresa May has long fought rebels in her party on Brexit. This week it's the pro-Brexit hardliners who are trying to force her hand, in a dramatic development that risks destabilizing her.
Euroskeptic Conservatives think May has betrayed them by getting her Cabinet to agree to a softer form of Brexit than the hard separation from the bloc they favor. Her plan to maintain European rules in some key areas—welcomed by businesses—sounds to Brexit supporters like a failure to take back sovereignty.
With some important votes in Parliament this week, the euroskeptics are getting organized. And the man corralling them into voting against the government is Steve Baker, a veteran Brexit campaigner who quit the government last week to protest May's proposals. Baker is coordinating lawmakers on WhatsApp ahead of key parliamentary votes, according to a person familiar with the strategy.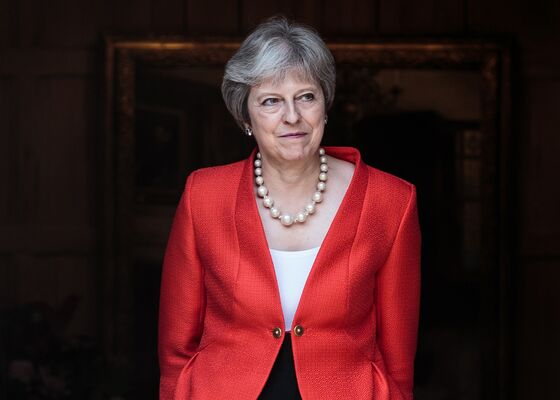 The hardliners want to show May that without them she can't get the final Brexit deal she negotiates with Brussels through Parliament unless she turns to the opposition Labour Party for support. And Labour has made clear it wants to come to power and would vote down her deal and seek a general election. Just seven lawmakers have to abandon May for her to lose her majority—so Baker doesn't need many to obey his rival whipping operation for the show of strength to be successful.
The Telegraph newspaper reported that more than 100 lawmakers were in the WhatsApp group, which if true would amount to a considerable threat to May's leadership. (Worth remembering that people sometimes join WhatsApp groups just to lurk.)
Their first opportunity is the Taxation (Cross-Border Trade) Bill, which returns to the House of Commons today. Leading pro-Brexit Tory Jacob Rees-Mogg, chairman of the European Research Group of Tory euroskeptics, has proposed amendments to the legislation which aim to scupper May's plan. Another bill comes back on Tuesday—and with it another opportunity to defy May.
May says she's fighting on. She wrote in the Mail on Sunday that it's her way, or the risk of no exit at all. Trouble is, for the euroskeptics, her Brexit is no Brexit at all.
Justine Greening, a former minister in May's government, calls for a second referendum in an article for the Times. "The only solution is to take the final Brexit decision out of the hands of deadlocked politicians, away from the backroom deals, and give it back to the people," she argues. Former ministers Amber Rudd and Dominic Grieve back her, the Times says.
David Davis writes in the Financial Times that it's dangerous to leave the bloc but still be tied to its rules.
The Reversers' View | Tony Blair, who is campaigning for a second referendum that he hopes would reverse Brexit, wrote on Sunday that May's plan is the "worst of all worlds." In what looks like a coordinated plan, Peter Mandelson—who has also called for a second vote—took a similar line in the Observer on Sunday, saying May's plan for Brexit amounts to a "national humiliation."
Theoretical Sovereignty | May struggled to answer a question by the BBC's Andrew Marr as to whether, under her plan, a future decision by Parliament to diverge from EU rules on goods and agri-food would prompt a border to go up in Northern Ireland. Marr called it "theoretical sovereignty." May said whenever Parliament votes, it has "consequences."
More to Go? | Penny Mordaunt and Esther McVey are still considering resigning from May's government, the Sunday Times reported. Also in the Times, Davis called May and her aides "dishonest" while Steve Baker told the Sunday Telegraph the "establishment elite" was trying to subvert the divorce and the Brexit Department was a "Potemkin structure."
Tempest is the New Typhoon | Defense Secretary Gavin Williamson will unveil a full-size model of the U.K.'s new fighter jet at the Farnborough International Airshow today in a bid to show the nation wants to remain a so-called Tier One military power after Brexit, Kitty Donaldson and Benjamin Katz report. Two billion pounds of government funding will be earmarked for the project, nicknamed Tempest. It could end decades of cross-channel cooperation on warplane production.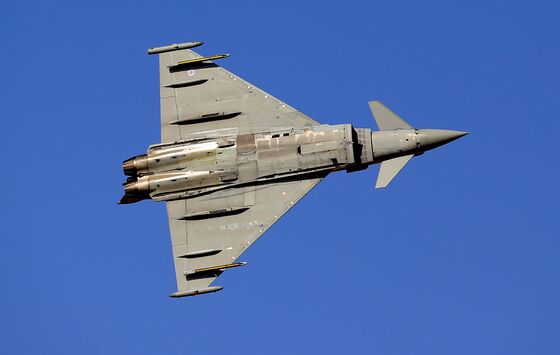 Coming Up | Another round of negotiations is due to start this week, though probably not until Tuesday. Brexit Secretary Dominic Raab is expected to meet Barnier this week. A meeting of EU27 representatives in Brussels to discuss Brexit has been pushed back to Friday from Wednesday, though not a huge amount is expected to come out of it anyway. Boris Johnson is considering making a resignation speech in Parliament on Wednesday, the Mail reports.
Trump's Advice | May also revealed on Sunday what President Donald Trump had told her about Brexit. He told her she should "sue" the EU instead of going into negotiations.