Yen Trumps Treasuries for $300 Billion Investor Amid Trade Spat
(Bloomberg) -- Not everyone is losing faith in the yen as a haven.
While the Japanese currency is the worst performer this month among its Group-of-10 peers, Russell Investments is bucking the trend. The asset manager, which oversees $300 billion, has upped the level of yen assets it holds compared to Treasuries, with the currency hitting the lowest level against the dollar since January.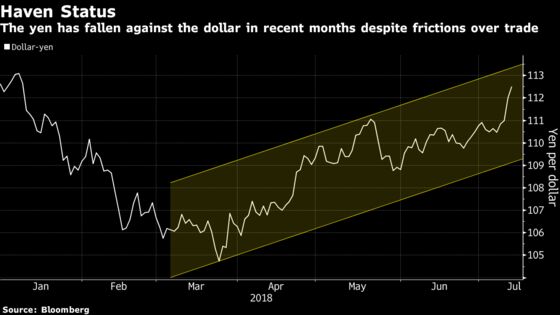 Fears that trade sanctions between the U.S. and China could escalate into a full-blown tariff war, as well as political turbulence in Europe, have helped to spur a flight to haven assets. But the yen has missed out recently, with options suggesting traders are not that confident over an advance. Still, the cheapness of the currency means a turnaround could well be imminent, according to Russell.
"It still is one of the most hated currencies and speculative positioning is quite short, so that's a good contrarian indicator," said David Vickers, a senior money manager. "It's nice to have something in the portfolio that appreciates when the world is going south."
The yen now makes up 11.5 percent of its unconstrained multi-asset portfolio, compared to a 7.5 percent share for U.S. Treasuries. That's up from 3 percent and 5 percent respectively at the start of the year.
The yen has fallen 1.8 percent this month to trade around 112.80 per dollar. Ten-year Treasury yields have held their ground at around 2.85 percent, having fallen from 3.13 percent in May, a near seven-year high.
Russell also expects the yen to benefit from a reduction in stimulus by the Bank of Japan, whose ultra loose monetary policies have hurt the currency against the greenback as the Federal Reserve lifts U.S. interest rates. Russell is neutral to negative on the dollar.
Around half of the Treasury holdings are comprised of five-year bonds, which offer the best opportunity to pick up yield, Vickers said.
"Because of where we are in the cycle, we don't see Treasuries having the same efficacy in a downward market," he added.