Video-Game Headset Maker's Big Fortnite Boost Risks a Reversal
(Bloomberg) -- Turtle Beach Corp., a maker of video-game headsets, has surged this year, riding on the coattails of the hugely popular Fortnite video game. But one technical gauge is suggesting the shares may be overbought.
The Williams Percentage R Indicator, or WLPR, helps chart whether a security is oversold or overbought. Right now, it's signaling that Turtle Beach, or HEAR, may be about to drop.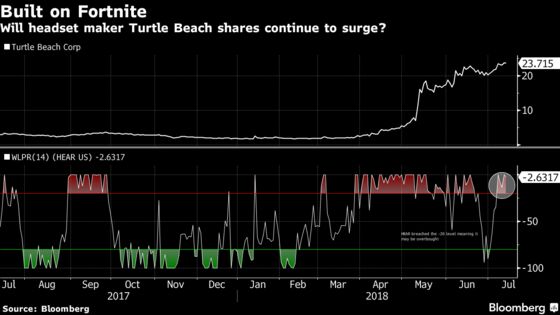 The analysis captures ideal entry and exit levels for buying or selling an asset. Data show that HEAR breached the level -20 marker of the indicator on July 6, a threshold suggesting to traders it may be time to sell.
The last time this technical indicator breached this mark on June 13, shares of HEAR dropped almost 10 percent between June 13 and June 27. The share price has since climbed back to $23.46 as of 11:58 a.m. in New York on Friday.
Turtle Beach has been on a upward tear since bottoming out at $1.72 in February, with shares climbing 1,289 percent the past six months. The San Diego-based company has over 45 percent of the market for video-game console headsets and is adding share in the personal-computer segment as well.