Convicted Trader Cries Foul at Nickname That Got Lost in Translation
(Bloomberg) -- Until a month before his London fraud trial began, Philippe Moryoussef felt confident he would prevail in court.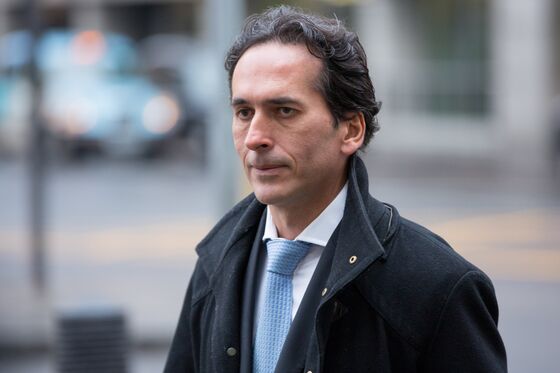 Then a guilty plea by friend and co-defendant Christian Bittar, a former Deutsche Bank AG trader, and a sobering discussion with his U.K. legal team persuaded him to skip town and seek refuge in France.
Moryoussef, a former Barclays Plc swaps trader, said Bittar's decision to plead guilty to manipulating a key interest-rate benchmark came as a shock. The 50-year-old spoke in an interview in Paris several days before being convicted himself, in absentia, of conspiracy to defraud by a London jury.
"We used to speak together three hours a day for years, but he never told me," Moryoussef said of Bittar. "We'd been fighting this case together until then."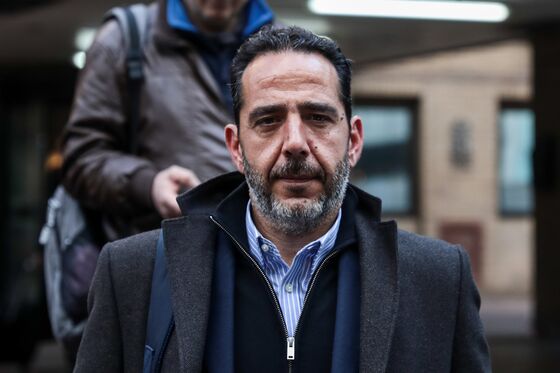 Speaking through his lawyer, Bittar disputed that he spoke with Moryoussef or that they fought the case together. The two men will be sentenced next week.
The conviction "confirms the particular unfairness of this procedure which violates both international procedural standards and the objective of judicial cooperation in Europe," said Moryoussef's lawyer, Francois de Castro, in a statement Friday. Moryoussef will eventually appeal his case to the European Court of Human Rights, he said.
Dressed in a black Armani t-shirt, jeans and beige loafers, Moryoussef frequently got worked up during the interview at de Castro's office in the chic Saint-Germain-des-Prés neighborhood. His lawyers were present, but he had his own soft-cover binder full of documents, in plastic page protectors, to buttress his arguments.
The former trader recounted an unpleasant meeting that took place weeks earlier in the same office. Still reeling from Bittar's plea, Moryoussef had asked his British lawyers to come to Paris to work out a strategy with his French legal team. The U.K. lawyers insisted that a long jail sentence had become unavoidable and that Moryoussef's only remaining course was to mitigate the damage. During the Paris meeting, they pressed him to plead guilty, predicting he would serve only five years of a six-year sentence.
"It was horrible. I nearly cracked," Moryoussef said.
Instead, he ditched his British attorneys and took the counsel of de Castro, who advised him to skip the trial and prepare from France for a lengthy legal battle that could one day reach the European Court of Human Rights in Strasbourg. In a statement at the start of the trial, de Castro said his client refused to appear due to "serious and repeated violations to the principle of a fair trial."
Moryoussef wasn't alone in dodging the proceedings. Of 11 defendants initially charged, only four appeared in court -- former Barclays employees Colin Bermingham, Carlo Palombo and Sisse Bohart, and ex-Deutsche Bank trader Achim Kraemer. They were accused of trying to manipulate the euro interbank offered rate, or Euribor, between 2005 and 2009. All denied the charges.
The Serious Fraud Office lost a bid to extradite five of the accused from France and Germany. Only Moryoussef was tried in absentia, because he had appeared at hearings early on and heard the charges against him.
In the end, the jury cleared Kraemer and failed to reach a verdict on the other three. A decision on whether to retry Bermingham, Palombo and Bohart will take place next week.
Moryoussef acknowledged that his absence from the trial, which began on April 11, made him an easy target. Lawyers for the others laid the blame for any wrongdoing on him and Bittar, while prosecutor James Waddington told jurors the duo were "the main protagonists" in the conspiracy, and recruited others to join them.
Prosecutors argued that derivatives traders Bittar, Moryoussef and Palombo had placed big bets tied to Euribor, a lending benchmark compiled from submissions by a panel of banks. To benefit their trading positions, they leaned on the submitters, like Bermingham and Bohart, prosecutors said.
The trial marked the latest chapter in a long-running scandal that's forced European banks to pay out more than $9 billion in fines and settlements for rigging interest-rate benchmarks. As in other such cases, traders' emails and chat-room banter featured prominently.
Waddington read out several messages at trial from Moryoussef telling other traders to "keep quiet" and not "talk too much about it." The prosecutor cited the emails as evidence that Moryoussef was concerned that his behavior would be discovered and wanted the others to be cautious.
"There's no way around their own words," Waddington said.
Moryoussef said his messages were misinterpreted. "I used excessive expressions along the lines of 'tell no one,' but that was just my way of boasting and giving my friends some kind of exclusivity," he said. "It's totally cultural. But these expressions are interpreted literally" by the SFO.
It was seven years earlier, after Moryoussef had become a swaps trader for Nomura Holdings Inc. in Singapore, that he first learned that Barclays was conducting an internal probe into the bank's rate submissions. But it wasn't until the next year, 2012, that his life changed. The Financial Times published an article portraying him as one of the leaders of a global rate-rigging scheme. He left Nomura by mutual agreement not long after.
He was traveling to London from Singapore in late June of that year when U.K. and U.S. regulators announced that Barclays had agreed to pay a 290 million-pound ($384 million) fine for submitting false Libor and Euribor rates. While his name didn't appear in the documents released by the U.K. Financial Services Authority, some of the chat transcripts the regulator cited were familiar to him.
"I recognized conversations that were mine, even though I was never interrogated by the FSA or Barclays," Moryoussef said. He spent the rest of that week watching TV in his hotel room, fuming at statements made by the bank's then chief executive officer, Bob Diamond.
De Castro said that while the conversations were mostly in French and needed to be put in context, neither the bank nor the regulator asked Moryoussef to explain their meaning. As it turns out, translation mistakes were made, he said. The nickname Bittar gave him -- "Filou" -- was translated as "crook" in all the conversations. In fact, it was a "diminutive for Philippe," Moryoussef said.
In early 2014, still living in Singapore, he received two letters in the same envelope. In one, the Financial Conduct Authority, a successor of the FSA, said it was planning to fine him 2 million pounds and ban him for life. In the other, the SFO said it had opened a Euribor probe.
"I was stunned," Moryoussef said. "What I was doing was legitimate, legal and had been done throughout the banking industry for over two decades."
He still felt confident he could prove his innocence when he appeared in a London court in February 2017 to hear the charges against him and plead not guilty. That's even though Tom Hayes, the former UBS Group AG and Citigroup Inc. trader, had been convicted and initially sentenced to 14 years in jail for rigging the London interbank offered rate.
Moryoussef and his lawyer say that Euribor is different from Libor in key respects. First, about 48 panel banks contributed submissions, rather than 16 for Libor, making it "impossible" to rig, said de Castro. Moreover, its code of conduct didn't prevent commercial interests from being taken into account when rates were submitted. Holding traders responsible for doing so would be a retroactive application of the rules, they said.
Moryoussef also said he contacted those responsible for creating Euribor and writing its code of conduct who "read all the chatroom conversations and confirmed there was nothing illegal." They said that balancing out banks' competing interests was inherent in reaching the right rate. That gave him "a lot of hope," he said.
But that was before Bittar's guilty plea and before U.K. Judge Michael Gledhill ruled last September that banks weren't allowed to take trading advantages into account when selecting the rate to submit. De Castro said he's convinced the European Court of Human Rights won't allow such a retroactive ruling to stand.
Still, years will go by before the court will get to review the case as all other available appeals must first be exhausted. That's time Moryoussef would have spent in a British jail.
"I'm not going to gamble a large part of my life," he said. Appearing at trial would have meant allowing "12 people decide upon my guilt on the basis of a retroactive law that was put in place over a decade after the facts, and a few minutes of conversation totally taken out of context."