Brexit Bulletin: Trump Strikes Again
(Bloomberg) -- Today in Brexit: Donald Trump hands the Brexiteers ammunition to attack Theresa May's Brexit plan, while the EU is wary of rejecting it too quickly.
President Donald Trump dealt a brutal blow to Prime Minister Theresa May's Brexit strategy, siding with her Brexiteer critics and confirming their worst suspicions that it will thwart their dream of forging closer trade ties with the U.S.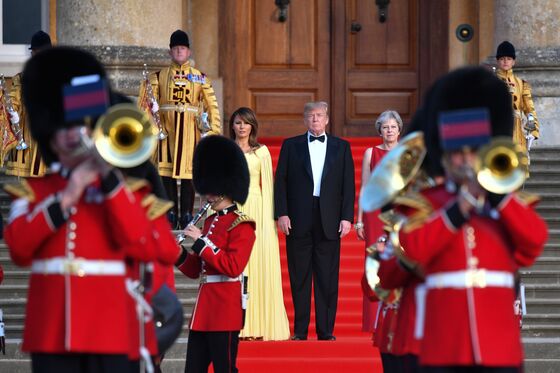 It's about the most damaging message that Trump could deliver in the U.K. for a controversial visit that includes a formal dinner hosted by the prime minister and tea with the Queen. He also criticized her negotiating strategy, and said Boris Johnson, who quit May's government this week in protest, would make a great leader.
But the comments on trade, in an interview with the Sun, are the deadliest because they contradict the government line on its Brexit blueprint and give fodder to the fears of Brexiteers, for whom a close trade deal with the U.S. is a cherished dividend of Brexit. (Curiously, the trade war that Trump started simply doesn't feature in the Brexit debate in the U.K.) Back in January 2017 Trump delighted Brexit-backers with the pledge of a quick trade deal, in an interview with the Times.
The U.K. government says its policy, which includes keeping close ties to the European Union after the divorce and matching the bloc's rules to ease the trade of goods and agri-food, will still allow Britain to strike new trade deals around the world. That argument is what has kept International Trade Secretary Liam Fox in a role that would look largely redundant if Britain can't go out and forge new partnerships.
May has lost two senior ministers over her Brexit plan – which is a week old today – and is fighting a backlash from hardliners in her party. Jacob Rees-Mogg, the leader of the euroskeptic caucus, is plotting a show of strength in Parliament next week as part of the campaign to force May to change tack.
As the Brexiteers, now joined by Trump, line up to attack May, the EU is being a bit friendlier. EU officials now see the biggest risk to getting a divorce deal done at all is whether May can cling to power, Ian Wishart and Tim Ross report. So even though they have major reservations about large parts of it, they will throw her what they hope is a lifeline, and won't reject it outright.
Banks Blue | Britain's financial industry slammed May's latest proposal for Brexit, with some calling it the worst outcome possible. In some of their most forthright comments since the referendum vote in 2016, industry executives said her plan for a looser partnership with the EU in financial services would drive up costs and hurt the wider economy. It's worth remembering that as early as 2016, senior government figures warned that banks would not be a priority in Brexit negotiations. You read it here first. 

Brexit and Bills | Energy costs are probably heading higher because of May's plan to leave the EU's single market, Rachel Morison reports. Standing outside the common market would risk complicating the system that allows electricity and natural gas to flow freely across borders.
Friendly Irish | Irish Foreign Minister Simon Coveney said the white paper is a step toward a softer Brexit, and the EU shouldn't rush to "poke holes" in it. The Irish have been the friendliest of the 27 so far, which is understandable given that their priority is to get a deal done on the divorce and the Irish border, and to avoid the messiest scenario of a breakdown in talks. 
DUP On Board | May's Brexit proposals respect her pledge that no border will be placed in the Irish Sea, Democratic Unionist Party leader Arlene Foster said. "As far as we are concerned, there has always been the one red line in relation to borders between ourselves and the United Kingdom, and we are content that that has been reflected at the Chequers summit and also by the white paper that has been published today," said Foster, whose party props up May's minority government in London.
On the Markets | May's Brexit blueprint has given pound bulls some hope, Ellen Milligan reports. Deutsche Bank forecasts sterling will appreciate 6.6 percent to $1.41 by year-end. That compares with a median estimate for $1.34 in a Bloomberg survey of analysts. The pound traded at $1.3171 early on Friday.