Trump Lobs Verbal Hand Grenade at Theresa May
(Bloomberg) -- Just hours before Donald Trump is due to touch down in the U.K. for a meeting with Prime Minister Theresa May, he lobbed a verbal hand grenade at his host, saying she isn't giving voters the Brexit deal they wanted.
"I would say Brexit is Brexit," Trump said in Brussels Thursday at a news conference at the Nato summit. "The people voted to break it up so I would imagine that's what they would do, but maybe they're taking a different route -- I don't know if that is what they voted for."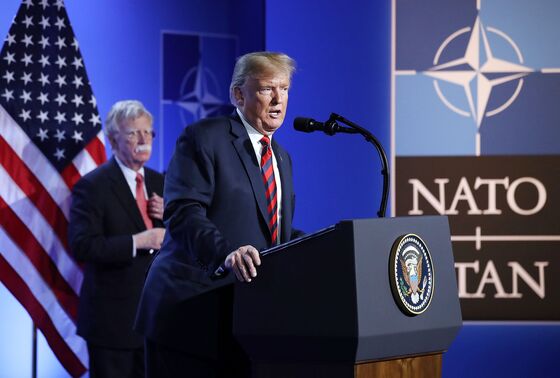 Trump's intervention comes on the day May's government is setting out its latest position paper on Brexit and is expected to present a deal that will anger hard-line pro-Brexit members of May's Conservative Party because it retains closer links with the bloc than they would like.
Two of May's Cabinet resigned this week because of her Brexit stance, including Boris Johnson the foreign secretary. In a leaked speech last month, Johnson reflected on how Trump would have taken a more robust approach to negotiations with the EU.
The U.S. ambassador to the U.K., Woody Johnson, said Wednesday he would set up a meeting between Johnson and Trump if the president requested it, two days after Trump called Johnson "a friend."
While May's office sought to make light of the remarks, saying it was positive the former foreign secretary had links to the president, it is nonetheless embarrassing to May, who has herself had a fraught relationship with Trump.
Trump considers the ex-minister a friend: "he's been very nice to me, very supportive and maybe I'll speak to him when I get over there. I like Boris Johnson, I've always liked him." May's spokesman said it was a good thing that the former foreign secretary enjoys a good relationship with the president.
Trump will be spend most of his time out of London in a series of visits, including tea with Queen Elizabeth II at Windsor Castle in order to prevent him witnessing planned protests. He is nonetheless aware of anger directed towards him but insisted British people like him.
The president shrugged off the prospect of demonstrations.
"There might be protests but I believe the people in the U.K., I think that those people, they like me a lot, and they agree with me a lot on immigration and I think that's why you had Brexit in the first place because of immigration," he said.