Yen Dethroned From Safe-Haven Perch In Brewing Trade War
(Bloomberg) -- One might be forgiven for thinking the yen would be a beneficiary of the recent turmoil in markets -- the escalation of the trade war triggering a Pavlovian response luring traders to its safe-haven status. Not this time.
Since the start of July, the Japanese currency has been the weakest of its Group-of-10 peers. TD Securities LLC had to close out a bullish trade call stemming from the haven rationale, accepting a loss after the yen fell past 112.10 per dollar to its weakest since early January.
"We initiated this trade on the basis that trade tensions would worsen and undermine risk sentiment, both of which would weigh on 10-year U.S. Treasury yields," said foreign exchange strategist Mazen Issa, in a note to clients Thursday. "While this narrative largely played out, USDJPY has broken away from traditional correlation structures and has pushed higher instead."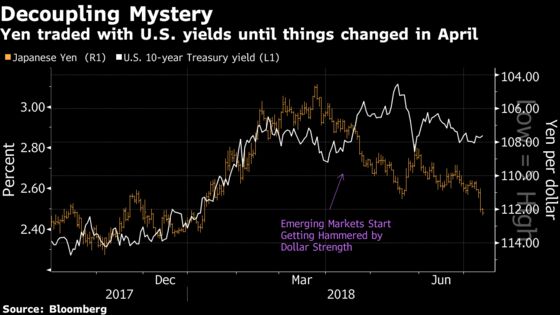 The slide has baffled many in part because the decline has coincided with more understandable weakness in other currencies against the dollar. The greenback's been a place of relative refuge from heightened trade risks amid a strong economic expansion, while Asian currencies like South Korea's won and China's yuan were rocked by growth concerns.
In Japan's case, the economic data hasn't budged and traders have long since wound back any hopes for the Bank of Japan tapering its stimulus. Similarly, interest-rate differentials that are often a driver of currency moves have remained largely stable.
The derivatives market might offer some clues to the recent weakness, with some traders saying options positioning suggests the sell-off has even further to run. U.S. inflation data due soon could also bring the 113 per dollar level within reach.
The yen was down 0.5 percent at 112.56 as of 12:29 p.m. in London on Thursday.
As for Issa, a break through technical levels increases the risk of a further decline in the yen, he said. And he has a new idea in mind as for how to profit from the trade woes.
"This augurs for patience," he wrote. " For now, we hold a preference to express trade risks through Canadian dollar shorts."