Investors Are Pulling Money From Small-Caps But the Stocks Keep Going Up
(Bloomberg) -- Timing is everything in investing. So is it time for investors to cash out of small-cap ETFs?
The iShares Russell 2000 ETF, or IWM, the largest fund tracking small-cap stocks came within 67 cents of an all-time high Monday and has posted a 10 percent increase this year. The shares tend to do well during periods of global economic instability because smaller companies typically are more domestically focused.
Yet the fund has seen five straight days of outflows that have surpassed a combined $1 billion. And on Thursday, Noah Weisberger, portfolio strategy managing director at Sanford C. Bernstein & Co, wrote in a note to clients that the small-cap trade has run its course.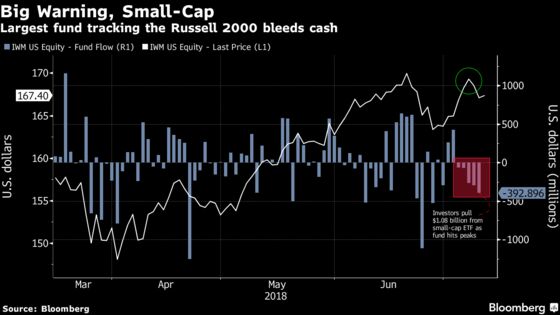 "Small cap CEOs are newly concerned about the trade war," said Matthew Litfin, portfolio manager of the Columbia Acorn Fund at Columbia Threadneedle Investments. "While second-quarter earnings growth for U.S. small-cap companies should be strong thanks to a solid economic backdrop and the recent tax cuts, investors may react poorly to what I think will be some negative commentary on conference calls."
Litfin said the Trump administration's new tariffs may further broaden small-cap risk. But some strategists still see them as the place to be amid steeper trade concerns.
Simona Mocuta, senior economist at State Street Global Advisors, said that although a lot is riding on how the trade situation gets resolved, companies aren't likely to put off investments with cash and credit readily available, meaning small-caps could see a boost from speculation about acquisitions by bigger players.
"Demand is strong, you've got a tax cut," she said. "If you're not going to invest now, when are you going to invest?"