Treasury Short Bets May Be on Borrowed Time
(Bloomberg) -- President Donald Trump's newest threat of ramping up tariffs against China is adding to a pressure cooker potentially building from an outsized amount of speculative bearish wagers on long-term Treasuries.
Treasury yields dropped after the Trump administration announced late Tuesday that an additional $200 billion of Chinese products would be hit with levies. While yields have bounced since, a flurry of trades in the options market shows that derivatives traders are setting up to profit from a bond rally. That puts them at odds with hedge-fund managers and other large speculators, who last week lifted their net 10-year note short positions to a record.
Some strategists that are among the camp calling for higher yields say the noise around trade could put their forecasts at risk.
"We've gone from euphoria to pessimism over the last six months," said John Stopford, the head of multi-asset income at Investec Asset Management, which oversees about $150 billion.
Net short positions on the 10-year future rose to more than half a million contracts in the week ended July 3, according to the latest data from the Commodity Futures Trading Commission. These positions were built as the 10-year Treasury yield fell to around 2.83 percent on July 3, and it's currently around 2.86 percent. That's well below the almost seven-year peak of 3.13 percent it reached in May and a median prediction among forecasters surveyed by Bloomberg of 3.17 percent by year end.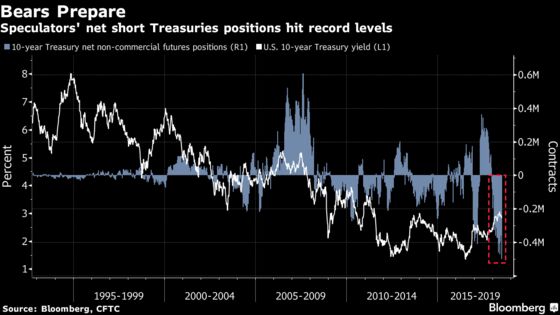 The possibility of an epic squeeze in short positions isn't being ignored by some bond traders, who are positioning in the Treasury options market, and may already be profiting from the flight-to-quality bid. The slide in yields has come even as the Federal Reserve has signaled its intention to keep lifting rates amid a pickup in growth and inflation, a dynamic that has helped the yield curve to push ever flatter.
In one notable position in the options market that has emerged in recent days, an account is paying $84 million to hedge against a drop in yields into the end of August. The position, which was well in place ahead of Tuesday's tariff news, is thought to be part of a larger upside hedge which expires Aug. 24.
Stopford's firm has been buying some Treasuries as a hedge against risk that share prices fall upon a global growth slowdown, as well as the Japanese yen, and call options on the S&P 500 index. The calls are a cheaper way to remain bullishly biased on stocks, he said.
"It's about adding defensive exposure rather than be hugely excited about potential returns in the short term," he said.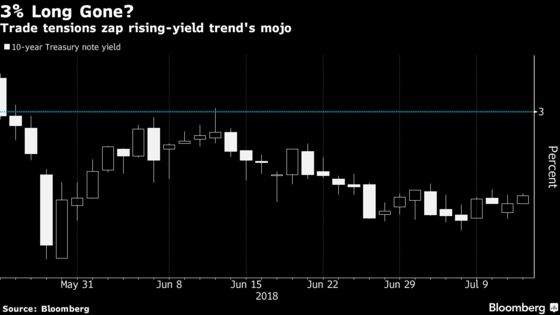 Yet, with 10-year yields now near the level where many of the latest speculative short 10-year futures positions were set, those who haven't wavered in their views could add more.
While the weaker short holders could be forced to exit positions, the key to a broad-based change in market positioning hinges on the Fed and whether it signals that trade effects could cause them to adjust the policy rate path, according to David Robin, a strategist at Chicago-based TJM Institutional Securities Services.
"The markets now are showing an ability to compartmentalize the noise" on trade, Robin said.
John Briggs, head of strategy for the Americas at NatWest Markets, said that as the tariffs on Chinese goods won't take effect until after Aug. 30, when the administration's consultation process ends, investors are likely to wait and see how the latest episode in the trade war will play out.
Market action hasn't put shorts under too much pressure yet, he said. "Real-money account base has gotten more sensitive, more close to home."
Futures data tracking the asset-manager community shows they remain bullishly positioned in benchmark 10-year notes, and added net longs in the past week, according to the CFTC. Meanwhile, the most recent JPMorgan Chase & Co. weekly Treasury client survey showed more investors moved closer to neutral positioning.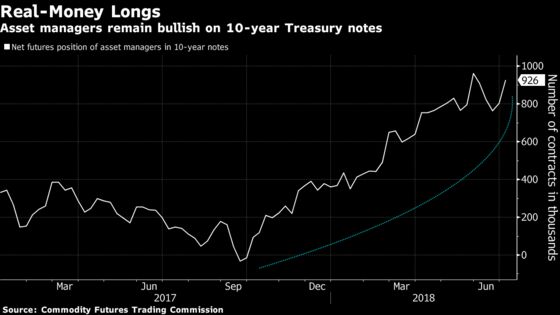 Still, the latest spate of tariffs, has left Briggs a little less secure in his forecast that the 10-year yield will end 2018 at 3.25 percent.
"I have to admit I'm a little bit more anxious" now, Briggs said. The new tariff information still "hasn't changed the base case for me that this does not turn into a global trade war. But my angst is rising."