There Have Been 325 U.S. Infants Abducted Since 1965—and 16 Are Still Missing
(Bloomberg) -- It happened a few blocks from the White House. April Williams, age 3 months, was kidnapped at a Washington, D.C., bus station on Dec. 2, 1983. A woman offered to change April's diaper while her mother rested. The case remains open after 35 years.
There have been 325 infant kidnappings across the U.S. between 1965 and March 2018 -- and 16 have yet to be solved, according to data complied by the National Center for Missing & Exploited Children. The children ranged in age from newborn to six months.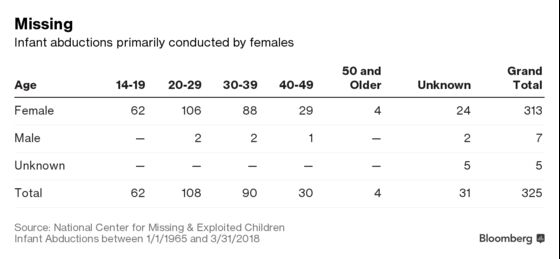 Forty-three percent of the abductions took place at health care facilities, 42 percent at homes and 14 percent elsewhere.
In more than 70 percent of the cases, the kidnappers pretended to be nurses or health care workers.
For more on 1983 April Williams kidnapping, CLICK HERE