Poloz Unruffled by Flat Yield Curve He Says Is Driven by Demand
(Bloomberg) -- Flat yield curves are the result of huge demand for long-term bonds rather than a signal of anything worrying in the economy, according to Canada's central bank governor.
Pension funds and other asset managers are buying up long-term bonds in oversubscribed deals as trade tensions make equities more risky, Governor Stephen Poloz said. That's keeping 30-year yields depressed while short-term rates are rising as central banks start to normalize monetary policy.
"I don't interpret the flattening of the yield curve as a warning sign," as we would in more conventional times, Poloz said at a press conference after the Bank of Canada increased interest rates for the fourth time in a year. "The most likely explanation to me is that the appetite for long-dated product is absolutely huge."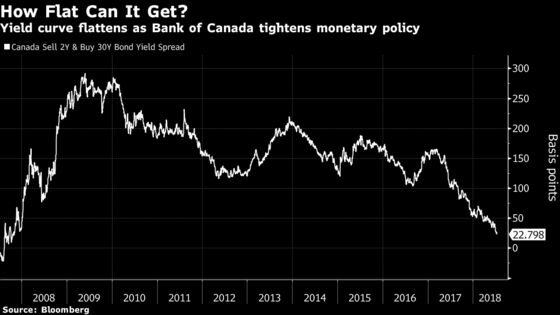 The long end of Canada's yield curve briefly inverted for the first time in a decade in May when the yield on the country's 10-year bonds rose above 30-year yields. The difference between two-year and 30-year bonds was at a decade low of 23 basis points on Wednesday after the Bank of Canada increased rates by a quarter point to 1.5 percent.
An inverted yield curve, with short-term rates trading above long term bonds, typically portends a recession as the market bets central bank tightening will bite in the immediate term while cooling inflation.