Pfizer Caving to Trump Has Wall Street Asking Who's Next
(Bloomberg) -- Pfizer's decision to delay planned drug price hikes after President Trump attacked the company on Twitter may cause another shakeout throughout the health-care industry. Analysts at Goldman Sachs, Morgan Stanley and SunTrust expect other drugmakers will have to show more restraint on price increases, and say drug distributors may also find themselves under pressure. Height Capital Markets earlier cautioned about the risk to pharmacy-benefit managers, saying that Pfizer's move ups the ante for the White House to propose policy changes on the use of rebates.
The S&P 500 Health Care Index fell as much as 0.8 percent on Wednesday, snapping an eight-day winning streak. Drug distributors were among the biggest decliners.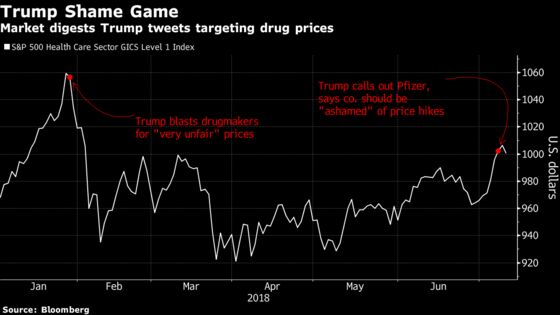 Here's what some analysts are saying:
Goldman Sachs, Jami Rubin
Pfizer's decision to push through another round of raises "represented a calculated risk in our view that did not succeed." Most of biopharma has stopped taking semi-annual price hikes in favor of a single increase at the start of the year.
"Immediate damage" will be limited to Pfizer, although biopharma "will have to be even more conservative with their next round of price increases, and a second round will
essentially become verboten."
Drug distributors such as AmerisourceBergen, Cardinal Health and McKesson may also come under the microscope, although branded drug price hikes "are not a meaningful profit driver for the group."
Morgan Stanley, David Risinger
Pfizer's reversal creates uncertainty for the sector and "could put a near-term damper on future price increase action by other pharma-bio companies." Drug distributors may need to rethink their forecasts and price inflation assumptions for 2019.
Eventual policy changes "could actually be positive for pharma-bio if it pressures the middlemen rebate system and/or reduces patient 'sticker shock' at the pharmacy counter."
While Pfizer's reversal should have minimal effect in the near term, "whether manufacturers limit themselves to one price increase per year or hold off entirely on customary January increases is key swing factor to earnings which we think is underestimated by the market."
"We are concerned by the precedent set" by Pfizer as "the perceived decline in pricing leverage will weigh on investor sentiment, supporting the need for transformative M&A."
Pricing concerns "will also weigh on wholesalers & PBMs as 'sabre rattling' around drug prices is likely to continue through mid-terms."
SunTrust recommends investors add shares of buy-rated AbbVie, Bristol-Myers Squibb and Lilly, none of which took mid-year price increases. Boris reiterated his hold rating on Pfizer.
"Drug stocks will not react favorably to this news, given the chilling effect this will likely have on others looking to take price increases. On the one hand, the price increases taken in July are only a small number of increases taken over the past year or several years, so the impact of the rollback to the healthcare system is insignificant in the big picture. However, the impact on the broader [dialogue] is much larger."
"The administration's and other key legislators' focus is not only on drug pricing, but on the overall supply chain and delivery system, including drug rebating, co-pay coupons, etc."
Height Capital Markets, Andrea Harris
"Willingly or not" the administration has ceded ground to drug makers after Pfizer said the rolled-back prices will remain in effect until year end or when the Trump administration's blueprint for policy changes goes into effect, whichever happens first.
Pharmacy benefit managers such as CVS Health and Express Scripts are likely to once again come under fire. The White House will aim to block the use of rebates in Medicare Part D and could try to repeal the safe harbor for PBM rebates from anti-kickback laws; the latter could "radically upend" the PBM business model.