Mini-GEs Have Even Bigger Breakup Problems
(Bloomberg Opinion) -- Some companies are too big to fail; others are too complicated to succeed.
Some U.S. industrial companies are as diversified as GE, if not more so, and yet command a market value of less than $5 billion. Examples include Standex International Corp., which offers industrial engraving services, sells hot dog and bun warmers and makes hydraulic cylinders for dump trucks. OSI Systems Inc. sells X-ray screeners used to scan airline baggage, but also has a $200 million health-care unit that sells anesthesia delivery tools and patient monitors.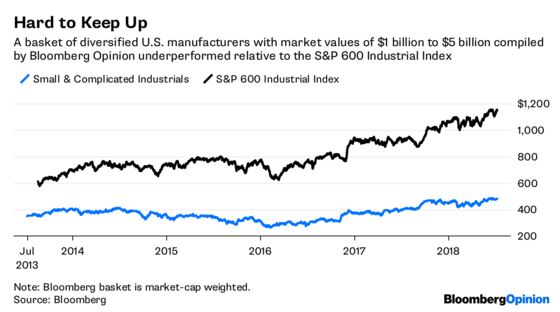 TriMas Corp.'s specialty products unit might as well be called "random products"; it includes industrial gas cylinders, gaskets and bolts and Arrow Engine, which itself has three primary divisions. TriMas also sells packaging supplies and aerospace fasteners. Barington Capital Group, which has pushed for changes at Darden Restaurants Inc. and Avon Products Inc., has a stake in TriMas. The company's board thanked the investor publicly in April for "thoughtful discussions with us over the past two years." 
These sprawling yet small companies spout a lot of the same corporate fluff about shared technologies and business models, but if that argument didn't work for GE, the king of scale, it's not going to pass muster for long at these less prominent firms. Investors want straightforward companies they can understand, not a CEO trying to manage three disparate businesses, regardless of whether they generate hundreds of millions or even billions of dollars in revenue.
Breaking up these smaller companies isn't always that simple, however. Many lack the scale in their businesses to execute the spinoffs favored by their bigger brethren. For example, a standalone OSI health-care unit would compete for investor attention with GE's $19 billion-in-revenue health-care unit, which sells many of the same products and is set to be spun off in 12 to 18 months.
Companies that are too diverse for their size are most likely going to need to be more creative if they want to simplify themselves. One way is to carve out assets and sell them to private equity firms. Another is to bulk up as a means to get smaller. Some companies may need to do both. TriMas is an example of how this could work.
Since taking over about two years ago, CEO Thomas Amato has strengthened TriMas's balance sheet and improved margins by exiting less-profitable businesses and cutting costs. That's helped drive a roughly 50 percent increase in the stock over his tenure, besting the Russell 2000 Index. Over a three- or five-year period, however, TriMas is still an underperformer, and analysts are expecting the stock to take a breather. A portfolio shake-up is most likely needed to take the share price to the next level.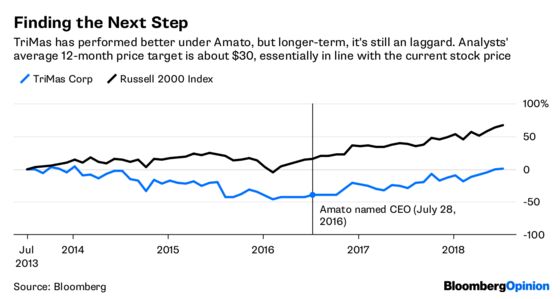 TriMas's aerospace fastener division is dwarfed by Arconic Inc. and Berkshire Hathaway Inc.'s Precision Castparts in an industry that's moving to consolidate as Boeing Co. and Airbus SE squeeze suppliers. As such, spinning it off solo isn't a viable option. TriMas could sell that business to Arconic or PCP, or it could try to create a stronger stand-alone entity by merging with a similar-sized rival. Consolidated Aerospace Manufacturing, owned by investment firm Tinicum Inc., could be a good fit. Ateliers de la Haute-Garonne and LISI's aerospace division — listed as top competitors in TriMas's regulatory filings — could also be potential partners.
That would leave behind the specialty products division, which made up about a third of TriMas's trailing 12-month sales, and the packaging business, which generated the bulk of the company's 2017 operating profit. That may be cleaned up enough to appeal to private equity buyers. Or the specialty products business could be sold (probably in pieces), providing resources for the packaging unit — which makes soap dispensers and perfume pumps — to make acquisitions.
There are a lot more steps involved here than in most industrial breakups. But moving away from being small and complicated is well, complicated.