Emerging Market ETFs Continue Falling as the Dollar Surges Higher
(Bloomberg) -- Emerging market exchange-traded funds were rocked by a climbing U.S. dollar Wednesday after the Trump administration announced fresh tariffs on $200 billion of Chinese goods.
The Vanguard FTSE Emerging Markets ETF, or VWO, fell as much as 2.3 percent, while the iShares MSCI Emerging Markets ETF, known as EEM, and the iShares Core MSCI Emerging Markets ETF, or IEMG, had similar reactions. Meanwhile, the Bloomberg Dollar Spot Index gained 0.8 percent, its biggest climb in a month.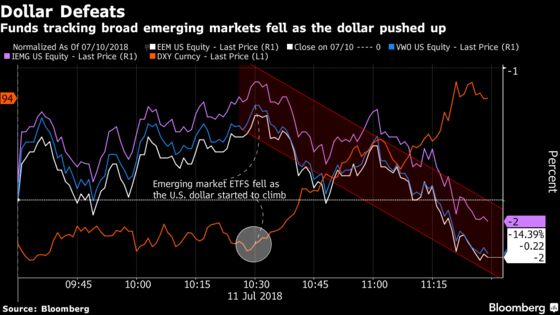 "The market is pricing in that emerging market equities, which are export sensitive, will be harmed more from the increase in borrowing costs associated with a stronger U.S. dollar than they will be helped by the relative cheapening of their local currencies," said Andy Wester, senior investment analyst at Proficio Capital Partners. "This is perhaps due to the announcement of further trade tariffs."
In addition, single-country Latin America funds are sinking. The iShares MSCI Brazil ETF, ticker EWZ, plunged 2.5 percent while the iShares MSCI Mexico ETF, ticker EWW, dropped 0.9 percent. Strategists say it may take some time before this reaction calms down.
"If tensions continue to escalate, all risk assets should be negatively impacted," said Shamaila Khan, director of emerging-market debt at AllianceBernstein. "For the next weeks, they may be hostage to headlines."