Confoundingly Low Pound Volatility Seen as an Opportunity for Allianz
(Bloomberg) -- The U.K. government is engulfed in a crisis and time is running out to forge a Brexit deal -- and yet pound traders seem remarkably sanguine.
While the currency's low volatility has puzzled some fund managers, Allianz Global Investors says it's now betting on greater swings in sterling. For Algebris Investments, the market is too comfortable with the risks and the pound should be trading almost 10 percent lower.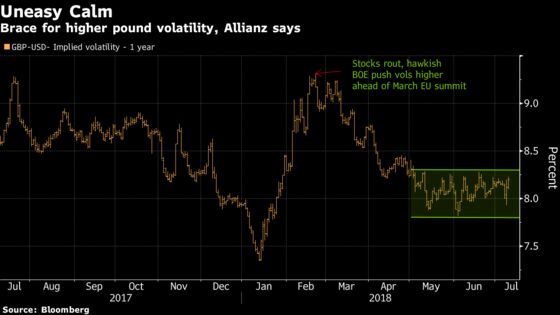 "For me there is a buying opportunity in terms of the volatility side for sterling," said Kacper Brzezniak, a portfolio manager at Allianz, which oversees 513 billion euros ($601 billion) of assets globally. "My view is that we could get a fairly large move in either direction, you could say markets are perhaps complacent or maybe a bit fatigued with Brexit."
Allianz's Brzezniak said the firm went long volatility ahead of last weekend by buying options, with a bias for sterling-dollar puts. The cost to hedge against turbulence in the pound versus the dollar over the next year climbed the most in a month after Prime Minister Theresa May saw two of her most senior ministers resign within 24 hours, but is still below long-term averages.
Even though the next 12 months encompass a key European Union summit in October and the U.K.'s March 2019 exit, a one-year gauge of volatility is yet to show signs of panic. It touched 8.23 percent on Tuesday, its highest in three weeks, but lower than the annual average of 8.44 percent and far from this year's 9.32 percent high.
"Progress hasn't been great in Brexit negotiations and it's a bit surprising that one-year volatility hasn't risen more than we have seen so far," said Van Luu, head of currency and fixed-income strategy at Russell Investments Ltd. The October summit is by when "we should make significant progress and if there isn't significant progress then there is certainly scope for higher volatility in the exchange rate," he said.
German Chancellor Angela Merkel called May's new proposals a "solid step forward" though the U.K. prime minister faces a challenge getting them through Parliament while keeping her Conservative party intact. Euroskeptic Tory lawmakers are considering voting down the plans in a last ditch move that could bring down her minority government later this year.
With Brexit progress also a factor for the Bank of England's policy, it is getting more challenging to predict where sterling is headed. The pound is mispriced and should be trading closer to $1.20, according to Alberto Gallo, a portfolio manager at Algebris.
"In this uncertain environment, with potentially a fall in the government, we don't think the BOE can hike rates," Gallo said in an interview with Bloomberg Television. "There is a serious risk that the U.K. will have to print its way out of trouble but in doing that, they will issue more debt," he said, referring to the possibility of greater bond issuance under a hard Brexit scenario or the opposition Labour party coming to power.
Volatility in the currency may hit particularly high levels around events such as the EU summits in October and December, according to strategists at UniCredit SpA, who recommended a long-volatility trade on euro-sterling this month. Credit Agricole SA also sees volatility as a good bet, with "better value" on the euro-sterling side.
"I would expect people to want to be compensated for the potential volatility that you could see over the coming months," Mike Bell, a global market strategist at JP Morgan Asset Management, said in an interview last week. "I would expect implied vol to be somewhat higher given the extent of the choppiness we could see before we get to the eventual end state."
Allianz's Brzezniak is bearish on the currency's prospects, while Russell's Luu sees more upside from here -- but both agree on more swings.
"Even if the final outcome is a soft Brexit or something similar, I think it very unlikely that we get there smoothly," Brzezniak said. "Long volatility is the right way to go."