Brexit Bulletin: The Wild Card
(Bloomberg) -- Today in Brexit: Politics might turn out to be a stumbling block on the Bank of England's path to higher interest rates.
The latest bout of turbulence in the U.K. government risks derailing the plans of another British institution.
The Bank of England is widely expected to raise interest rates next month for the second time in a year, as it looks to chart a course away from an ultra-loose monetary policy. With the U.K. economy bouncing back, and good weather and World Cup fever spurring consumer spending, politics is now the biggest wild card facing Governor Mark Carney.
May looks set to survive the resignations of Boris Johnson and David Davis, but if the prospect of a leadership challenge or general election grows in coming weeks it could prove enough to influence the more cautious members of the Monetary Policy Committee. After Johnson's resignation on Monday, investors cut the probability of a BOE move in August to 70 percent, from around 80 percent, although the odds rebounded slightly yesterday after the latest figures showed a pickup in growth.
"The BOE's main concern will now be the political drama in Westminster, though it would probably take a general election to stop the MPC in its tracks," according to Dan Hanson of Bloomberg Economics. In that case, "the committee is likely to see merit in waiting for the political uncertainty to subside before lifting rates to their highest level in nearly a decade."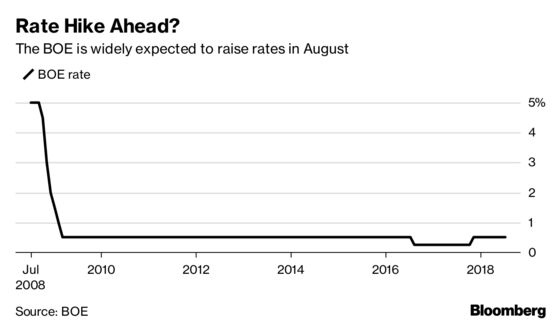 It wouldn't be the first time politics has stood in the institution's way. The bank's chief economist, Andy Haldane, one of three BOE officials currently pushing for higher rates, said in June 2017 that the surprise election that year had "thrown up a dust-cloud of uncertainty," and he didn't feel that "adding a twist or a turn from monetary policy would, in this environment, be especially helpful in building confidence."
The central bank has always said Brexit poses a significant risk to the U.K. economy, but has thus far seemed content to push ahead with interest-rate rises as the nation thrashes out a deal with the European Union. That could change if the latest turmoil boosts the chance of leaving the EU without new trading arrangements in place, according to Victoria Clarke, an economist at Investec. "If the current political chaos affects negotiations, I'd expect the BOE to be pretty worried," she said.
Alberto Gallo, a portfolio manager at Algebris Investments, went even further in an interview on Bloomberg Television. "We don't think the Bank of England can hike rates," he said.
Second Vote | Tom Watson, the Labour Party's deputy leader says another Brexit referendum could be necessary if May's proposed deal can't get support.
Better Off In | The U.K. turmoil is a wake-up call that'll put off other countries from leaving the EU, Germany's cabinet minister for European affairs said. That sentiment was echoed by Barnier, who said that by the end of the Brexit negotiations it would be "crystal clear" that it's better to be in the EU.
Irish Boost | Ireland's Prime Minister Leo Varadkar took a softer stance, saying the EU may be "entering into a space" where it can show some flexibility in Brexit talks. German Chancellor Angela Merkel also struck a positive note, calling the new proposals a "solid step forward."
Unusual Support | May received support from more unexpected sources as two government officials from the Cameron-era backed her in interviews on Bloomberg Television. Jim O'Neill, an ex-commercial secretary to the U.K. Treasury who quit in 2016, said the PM is stronger than she's been in some time, while Rupert Harrison, who served as George Osborne's chief of staff, predicted she has the numbers to survive a leadership challenge.
On the Markets | The near-term direction in U.K. government bonds hinges on whether May stays or goes, according to Andy Chaytor, head of European rates strategy at Nomura International. Meanwhile, Allianz Global Investors says it's betting on greater swings in the pound.
Coming Up | May will attend a NATO leaders summit in Brussels starting today. The U.K. government will then publish its Brexit White Paper on Thursday, May's spokesman James Slack told reporters. Britain is also preparing for the visit of U.S. President Donald Trump's visit later this week. Trump had very warm words for one U.K. politician: "Boris Johnson's a friend of mine. He's been very very nice to me. Very supportive. And maybe we'll speak to him when I get over there. I like Boris Johnson. I've always liked him."