Walgreens Analyst Owns Up to His Own Bad Call
(Bloomberg) -- There's wrong, and then there's "spectacularly wrong."
Evercore ISI analyst Ross Muken was the latter, by his own admission, with his lengthy support of Walgreens Boots Alliance. He finally threw in the towel today, downgrading the shares to the equivalent of a hold, after recommending investors buy the stock for the greater part of the last two years.
"Everyone makes mistakes (I think my mom taught me this?)," wrote Evercore ISI analyst Ross Muken in a note to clients on Tuesday. "The key she said was always learning from your error and applying that teaching going forward."
The move ended "one of the more painful experiences I have endured in my fifteen-plus years as a sell-side analyst," Muken wrote. In the past 12 months, shares of Walgreens have dropped 18 percent, propelled by a 10 percent nosedive two weeks ago after Amazon.com Inc. announced its purchase of online pharmacy PillPack, putting it in direct competition with Jeff Bezos's megalith.
Muken had thought investors would be skeptical of the PillPack acquisition. Instead, the Russell 3000 Drug & Grocery Store Chains Index saw the biggest single-day loss in nine years.
Walgreens shook off the Amazon concerns, with spokesman Jim Cohn citing comments from an earnings call last month.
"We are not particularly worried," Chief Executive Officer Stefano Pessina said on the June 28 call, coincidentally the same day of the Amazon-PillPack announcement. "We are not complacent. We know that we have to change the level of our services to the customers, and we are working quite hard on that direction."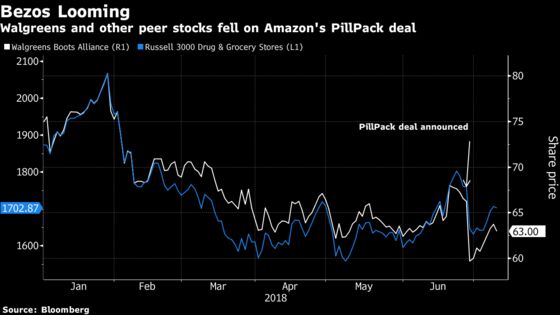 In addition to going head-to-head with Amazon, Muken wrote today that Walgreens also faces uncertainty in drug pricing, fee pressure in the European Union and volatility from Brexit.
"How does one actually get improved returns here?" Muken wrote. "That's ultimately the question we could not answer."
It's not unusual for an analyst to be wrong, but it's less common to admit it. A Piper Jaffray analyst once repeatedly predicted the introduction of an Apple Inc. television, but when Apple abandoned that idea, he had no choice but to say he was off-base. Last month, a SunTrust analyst covering specialty vehicle-maker REV Group Inc. said that "we simply got it wrong," on the company, which had just posted a dismal quarter.
Muken said in a phone interview that he had been wrong in the past, but said that this time he was "spectacularly wrong."
"Ultimately, we're paid to make calls, we're paid to have a viewpoint and opinion and no one gets it always right. I think it's helpful to the investor base to understand why you got something wrong," Muken said. "I think investors appreciate that."