Traders Brace for Wild Ride as Erdogan Binds Grip on Turkey
(Bloomberg) -- The Turkish lira's rebound on Tuesday was probably nothing more than a dead-cat bounce.
A measure of risks to the currency remains the highest among emerging-market currencies. Options traders are more bearish on the lira than its peers, its historical volatility climbed to the highest since 2009 and the lira's expected swings over the next three months is the highest in the world.
Read More: Rattled Analysts Wonder What Will Become of Turkish Central Bank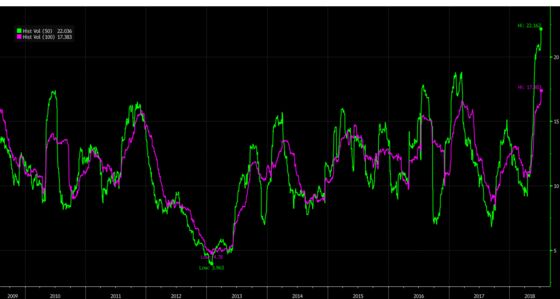 Investors are concerned that policy makers will hesitate to unwind months of stimulus after President Recep Tayyip Erdogan -- who doesn't want higher interest rates -- claimed exclusive power to name the central bank governor and appointed his son-in-law, Berat Albayrak, as treasury and finance chief of his new administration.
The risk of a full-scale currency crisis has resurfaced amid concern Erdogan will implement unorthodox policies, which include "lowering inflation by cutting interest rates," Piotr Matys, a strategist at Rabobank in London, wrote in a note.
"We may have to abandon our cautiously optimistic view that the lira should be more stable based on the assumption that the Erdogan administration will allow the overheated economy to slow down, will phase out fiscal stimulus and will focus on implementing structural reforms over the next two years or so," he said.
The changes come at a time when emerging-market assets were already under pressure due to a relatively strong dollar and concern over a trade war between China and the U.S. Turkey's double-digit inflation and twin deficits put the lira at the center of a rout in developing markets in recent months, making it the worst-performer among emerging currencies this year after Argentina's peso.
"Albayrak will have to move very quickly to reassure financial markets - and will need to send a signal that he will listen," tweeted Timothy Ash, a London-based senior emerging-market sovereign strategist at BlueBay Asset Management, which oversees more than $60 billion in fixed-income assets. "The economy faces a challenging time and this is a time for orthodoxy."
The lira rose 0.8 percent at 3:40 p.m. in Istanbul to 4.6979 against the dollar, after paring gains of as much as 1.9 percent. It plunged as much as 3.7 percent Monday.
Three-month implied volatility for the dollar-lira currency pair, a measure of anticipated price swings based on options, advanced the most since May on a net basis to about 18 percent
The currency's 50-day historical volatility rose to 22 percent, the highest since 2009
Risk reversals show that the premium traders pay for three-month options to sell the lira, compared with those to buy, rose for a second day to 3.72 percentage points
"Idiosyncratic risks are re-emerging," Guillaume Tresca, a Paris-based strategist at Credit Agricole SA, wrote in a report. "This should mark the end of the post-election relief rally."