Retail May Be Looking Up, According to Some Technical Indicators
(Bloomberg) -- An upswing in retail stocks may be on the horizon as two technical indicators point to a buying trend as earnings season begins.
The Directional Movement Index shows the direction of a price trend by charting the divergence between positive and negative levels. By this measure, a positive divergence in the S&P 500 Consumer Durables & Apparel Industry Group Index as of June 28 suggests a strong outlook.
Today, the Average Directional Index, or ADX -- a gauge that indicates trend strength -- was approaching the pivotal 25 mark, which separates a strong trend from a regular one. In the weeks following the last time the ADX hit the 25 threshold, Nov. 27, the index shot up 10 percent, peaking on Jan. 24.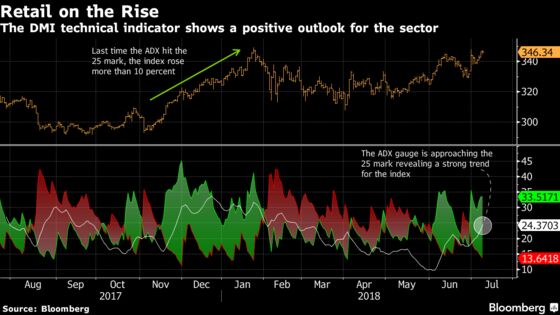 After a tumultuous period of declining sales and bankruptcies, the U.S. retail industry has recently improved. Thanks to sky-high consumer confidence and a growing economy, many chains in 2017 posted their best holiday-shopping seasons in several years. They also have more money to invest in their operations thanks to corporate tax cuts.
The industry group index climbed 5.9 percent in June and has gained almost 1 percent this month.