Nordstrom Investors Spurn Growth Plan That Fits Just Fine
At a Tuesday presentation for investors, Nordstrom Inc. executives outlined a strategic plan and a long-term financial outlook that includes revenue growth of 3 to 4 percent on an average annualized basis from 2017 to 2022. The company says it is on track to continue taking market share in the highly competitive apparel business.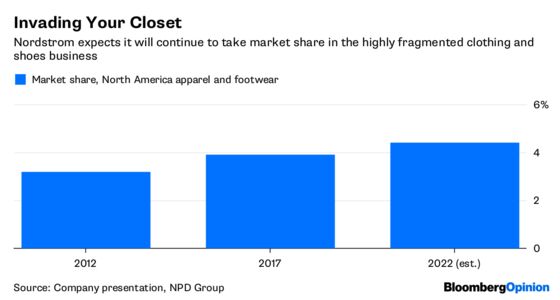 The growth plans look feasible. They call for ginning up sales in new markets such as New York, where it just opened a flagship men's store and is set to open a women's store. And they include relying more on digital sales, which grew 18 percent in the latest quarter compared with a year earlier and accounted for 29 percent of total sales during that period. 
Investors were not impressed; they sent shares down 4 percent.
It might have been nice to carry out this plan without having to worry about a thumbs down from Wall Street. But Nordstrom executives shouldn't get too rattled. The plan plays directly to the company's strengths and gives the retailer a reasonable shot of thriving in a challenging environment for mall-based chains.
One reason Nordstrom's digital business has become so strong is that is plays on a field where Amazon.com Inc. largely hasn't been a contender. Nordstrom has successfully nurtured relationships with aspirational brands — from newcomers such as Allbirds and Reformation to luxury powerhouses such as Gucci and Valentino. Upscale brands of that kind largely can't be found on Amazon. And it doesn't hurt that Nordstrom was early to offer free shipping and free returns to remove some of the risk of shopping for such goods online.
Nordstrom said on Tuesday that it was committed to being a partner of choice for selective labels. The retailer said so-called strategic brands — those that they nurture a more purposeful relationship with — will account for half of its business by 2020, up from 40 percent in 2017. This is powerful defense as Amazon forays deeper into the apparel business. 
Plus, executives said that e-commerce sales at its full-line department stores were not less profitable than store sales. They offered an example of an item that retails for $100. Factors such as labor expenses and shipping expenses were different for in-store and online purchases, but the final result was the same: Each had a $30 contribution margin. 
That should be some measure of relief for investors who may have worried that Nordstrom's increasing reliance on online shopping would be a significant drag on long-term profitability.
Finally, it's worth noting that Nordstrom gets to work on all of this without having to worry about a problem that looms large for other large retailers in this category. Nordstrom, with just 122 full-line department stores and 239 Nordstrom Rack outposts, is not overstored. Executives said Tuesday that each of its stores was cash-flow positive.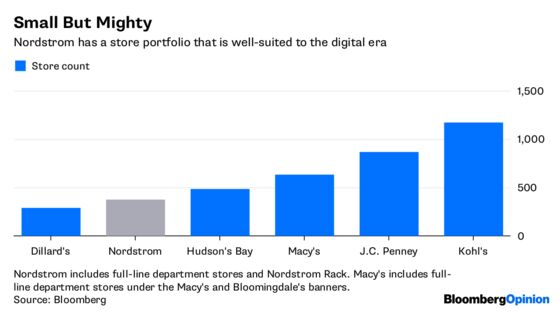 Macy's Inc., J.C. Penney Co. and Kohl's Corp. still have huge store portfolios and have difficult decisions to make in the coming years about whether that makes sense in the digital era. More pruning is most likely ahead for each of them. 
Nordstrom, meanwhile, is unencumbered by those physical retailing issues and can focus on experiments such as Nordstrom Local, its small-format service hub that lets shoppers get clothing alterations, easily pick up online orders or get a manicure.
Those kinds of experiments can help Nordstrom build its future while rivals reckon with their past. Investors would be wise to show a little more foresight.