MUFG Lays Out Map for U.S. Curve Inversion Beginning in December
(Bloomberg) -- It's a no-brainer that the Treasuries yield curve is on a crash course to inversion.
That's the take from John Herrmann of MUFG Securities Americas Inc., who has a road map that lays out the timing for when yields on certain maturities will turn upside-down.
The curve from 10 to 30 years will likely invert by year-end, the rates strategist wrote in a note Tuesday. The spread between these maturities is now about 10 basis points, its smallest since July 2007. MUFG's model projects the 10- to 30-year gap dipping to -3.7 basis points in early December, he wrote.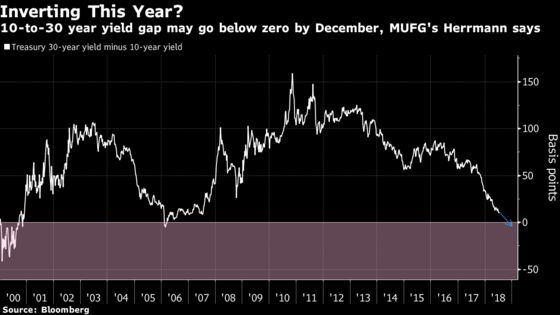 The risk of curve inversion is on traders' radar screens and has some Federal Reserve policy makers on edge given that it has historically been a precursor of recessions. The Fed's plan to continue with gradual rate hikes, even as global trade tensions mount, is helping fuel the flattening. The central bank could tighten four or five more times by the first quarter of 2020, according to MUFG.
Herrmann says the spread between 5- and 30-year yields will be the next to invert, with the model putting the gap at -3.4 basis points by mid-March. The much-watched 2- and 10-year curve would drop to -4.4 basis points some time around mid-August of 2019, the MUFG model predicts.