Michael Spencer's Big Trade Looks Better by the Year
(Bloomberg Opinion) -- When Michael Spencer sells, pay attention. The British broking entrepreneur sold almost all his shares in TP ICAP Plc soon after he received them following the merger of his ICAP voice broking business with rival Tullett Prebon.
Vindication came dramatically on Tuesday. Shares in TP ICAP slid as much as 37 percent after the company issued a profit warning, erasing more than $1 billion of market value. The stock is now about 40 below its level when Spencer sold.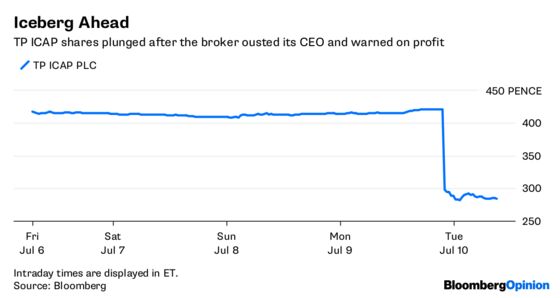 The combination of two of London's old-school voice broking platforms has been a textbook example of a mishandled merger integration made worse by poor communication.
When the transaction was unveiled in late 2015, Tullett Prebon promised the deal would generate 60 million pounds ($79 million) of annual savings from mashing together the two firms' back offices. By way of an incentive, the management team was given a 60 million-pound bonus package to make it all happen. The savings target was subsequently upped to 100 million pounds.
Reality has bitten. That target has now been trimmed to 75 million pounds and costs are creeping back up. All the excuses are there – Brexit, MiFID II, cybersecurity, you name it.
It's hard to avoid the impression, though, that a highly-incentivized management team cut to the bone and the business has suffered. Compounding the problem, the firm is having to pay up to retain revenue generators.
CEO John Phizackerley is carrying the can. His defenestration was announced with the profit warning. But the blame should land on the entire board, from Chairman Rupert Robson down. It beggars belief that the economics of the business have changed quite so rapidly since the company's results in March, when it talked of rising cost pressures. This situation could and should have been spotted sooner.
The governance of the combined operation has been wanting. The bonus program likely encouraged an excessive focus on ripping out costs. Robson announced his resignation in May and no successor has been named. Between November and this week TP ICAP was without a permanent CFO. Global broking chief Nicolas Breteau has been hastily installed as CEO by an outgoing chairman.
The logic of TP ICAP's merger still holds. Voice broking is mature and consolidation makes sense. But there is only so much M&A can do, and extracting the benefits needs careful management.
If Spencer had his doubts about the business, even he probably didn't see all this coming. But his big call to retreat from traditional voice broking to focus on its electronic replacement looks more prescient, or at least luckier, as time goes on. In March, he agreed to sell Nex, ICAP's former electronic business, to CME Group Inc. for almost 4 billion pounds, more than double what TP ICAP is now worth. Wisely, CME has made sure Spencer will stick around for the integration.