Flood of New CLOs May Cool Booming Market, Push Spreads Wider
(Bloomberg) -- It's already been one of the busiest-ever years for new collateralized loan obligations, but a further rush of resets and refinancings may see spreads widen further and some investors pull back from the new issue market.
More deals in the second half of the year may be a test, as some investors become more cautious and as hedging costs move against Japanese buyers -- a major source of demand. Issuer-friendly debt terms on both the CLO deals themselves and the underlying leveraged loans are also putting off some investors.
"Because it's so hot, we take a view that the deal structure in the current market backdrop has some potential concerns," said Mike Terwilliger, a portfolio manager at Resource Alts, which has bought less than $5 million of incremental CLO exposure this year after investing significantly in the market with successful results over the last three years. "We have really backed off pretty aggressively from the CLO market."
The new-issue market got a big boost earlier this year when risk-retention rules were lifted by the U.S. courts, at the same time as rate rises fed investor appetite for floating-rate securities. Year-to-date, sales are 38 percent higher year-over-year at $73 billion, and 170 percent higher than the same period in 2016, data compiled by Bloomberg show. Total outstandings jumped to $540 billion from $450 billion a year ago.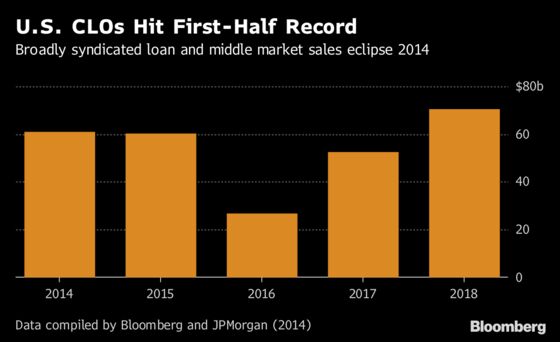 JPMorgan Chase & Co. analysts expect full-year supply of refis and resets to be $115 billion in addition to $130 billion in new-issue paper. Wells Fargo is more bullish, predicting a total $150 billion of new deals this year. Total sales in 2017 were $119.85 billion, according to data compiled by Bloomberg, the second highest yearly supply after 2014's $124 billion.
Amid this rush of supply, spreads have been climbing. The lowest spread on the top-rated AAA tranche for new issues dipped to 92 basis points in March -- a post-crisis tight -- around 10 to 15 basis points lower than comparable deals today.
Widening CLO spreads and lower margins on the underlying leveraged loans can make it less economic for issuers to put together new deals, as their incoming cashflows are reduced while payments to bondholders rise.
For the new-issue market, "the arbitrage is more challenging right now than it had been earlier in the year," says Tom Majewski, managing partner and founder of Eagle Point Credit Management. Some CLO managers are printing fewer deals and lowering fees, he said. Meanwhile, the pace of filling loan-warehousing facilities during the ramp-up period of CLO transactions "has been slower than we would like."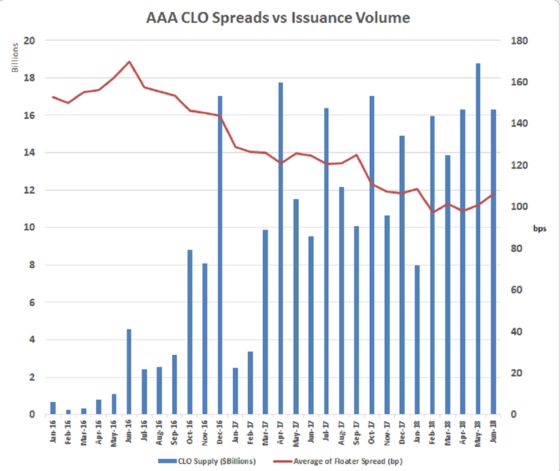 "Some equity investors are demanding more advantageous prices in order to buy equity," said John Fraser, head of Investcorp Credit Management U.S. LLC. "The ones that are issuing have either lined up equity well in advance of coming to the market, and/or are the ones who control equity."
The large number of callable CLOs expected to reset or refinance this year, particularly in July and October, may be a risk to spreads, JPMorgan analysts wrote in a June report. It means the market "is putting a lot of spread duration up for sale" and these refis and resets, as well as re-issues of old deals, may "cannibalize" the CLO market, the analysts wrote.
| YTD Pricing Volume | Number of Deals | YTD Volume ($m) |
| --- | --- | --- |
| New Issue BSL CLO | 120 | 65,748.518 |
| New Issue Middle Market (MM) CLO | 12 | 7063.37 |
| Re-Issue | 30 | 17,163.564 |
| Hybrid CLOs | 5 | 3109.1 |
| Total CLO New Issue Volume | 167 | 93,084.552 |
| CLO Refi/Reset | 144 | 68972.019 |
| Refis | 47 | 20,016.647 |
| Resets: | 97 | 48,955.372 |
"With conditions in the broader lending market being extremely permissive to issuers -- in coming with lower yields and no covenants -- this is a very good time to step back from the CLO marketplace," said Resource Alts' Terwilliger. "We are letting the existing positions run off until we get a turn in the cycle."