Egypt Inflation Rate Accelerates for First Time in 11 Months
(Bloomberg) -- Egypt's inflation accelerated for the first time in 11 months in June after the government slashed fuel and electricity subsidies to help reduce the budget deficit.
Inflation in urban parts of the country, the rate closely watched by the central bank, climbed to 14.4 percent from 11.4 percent in May, according to the state statistics agency. Prices rose 3.5 percent on the month, the most since January last year.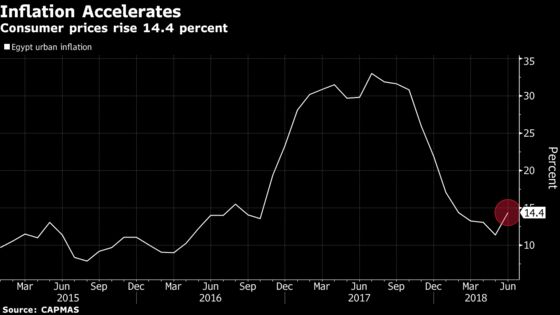 The central bank kept its benchmark interest rate unchanged on June 28, saying government measures to shore up public finances were "expected to lead to one-off increases in the price level, which translate into temporary higher inflation rates."
Because the fuel cuts were enacted in early June, and electricity price increases didn't go into effect until July 1, the full impact on inflation should be mostly captured by July, Cairo-based investment bank Naeem Holding said in a research note.
Pharos Holding, in an emailed note, said it expects the central bank to hold interest rates until its November meeting, "when inflation numbers would have decelerated and any potential cuts at that time will be linked to global markets' developments."
Annual core inflation, the gauge that strips out volatile items, was 10.9 percent in June -- its lowest level since April 2016, according to Bloomberg data. That puts it well within the central bank's target range of 13 percent (+/-3 percent).
The International Monetary Fund, which has granted Egypt a $12 billion loan, said earlier this month that the central bank should maintain a tight monetary policy after the latest subsidy cuts.