Brexit Bulletin: May Fights On
(Bloomberg) -- Today in Brexit: The conventions of British politics no longer hold. 
Prime Minister Theresa May looks set to survive any attempt to oust her and is turning to the opposition Labour party for help to win her next big fight.
The unwritten rules governing British politics are no more. The man in charge of Brexit – the single most important issue facing the government – resigned with a withering attack on her policy. So did Boris Johnson, the face of the referendum campaign, slamming her Brexit strategy as dream-killing surrender on the way out. But the arithmetic of the Conservative Party – and perhaps a realization that May's plan might represent the best chance of making sure Brexit happens at all – meant the departures didn't unleash a leadership challenge. 
So May staggers on. She even managed a smile.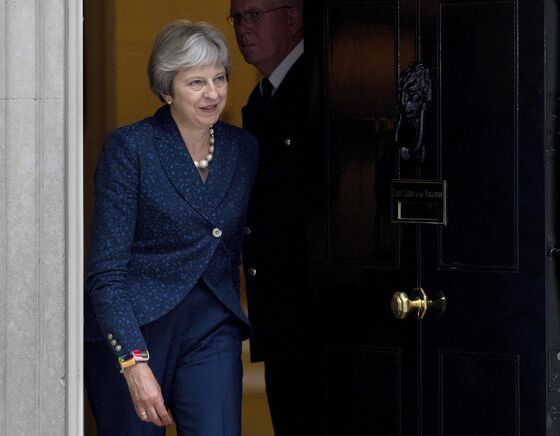 On Monday night, at a meeting of her lawmakers, most of them appeared content with her proposal to maintain close ties to the European Union on trade and regulations after Brexit, Rob Hutton and Tim Ross report. The plan was agreed to by her Cabinet on Friday, seeking to protect jobs while delivering the divorce that voters sought. 
A handful of lawmakers who want a clean break from the EU said privately they had submitted letters calling for a vote of confidence in May, though they hadn't reached the 48 needed to trigger a ballot. Should they ultimately do so, the prime minister also appeared to have enough support to win and continue in her job.
Perhaps the most surprising development on Monday was May's office trying to woo lawmakers from the opposition Labour Party, briefing them on the plan she had made with her Cabinet at Chequers. Her new blueprint goes some way toward Labour's position, but the party has made clear that it wants to bring down the government and take charge of negotiations itself.
The next big fight will probably be around October, when May brings her Brexit deal back from Brussels, and the hardline Brexit backers will have a chance to vote against her.  The question: Are they prepared to bring the government down, and usher in a Labour government that backs an even friendlier divorce from Brussels? For every Brexit purist who would vote against her, May needs an opposition lawmaker who might back her. The outreach enraged Brexiteers.
"There is one issue of grave concern, and that is that the government has been briefing Labour members of parliament," said Jacob Rees-Mogg, chairman of the European Research Group of clean-break Brexit supporters. "If the government plans to get the deal through on the back of Labour Party votes, that would be the most divisive thing it could do, and it would be a split coming from the top."
She might have no alternative.
Meet Dominic Raab: the new Brexit Secretary to replace David Davis. Firmly in the Brexit camp, he's also a karate black belt. At 44, he's a potential leader but probably not just yet.
That giant sucking sound is Brexit London losing out, Mark Gilbert writes.
Airbus to Brussels: Be Fair | Airbus CEO Tom Enders told a German Chamber of Commerce event that it welcomed the Chequers agreement and  will ask the EU and other member states to be "similarly pragmatic and fair."
Exchange of Letters | Boris Johnson's resignation letter to May tore into her Brexit policy: "The dream is dying, suffocated by needless self-doubt," Johnson wrote, and the words made the splash on a couple of front pages. "It is as though we are sending our vanguard into battle with the white flags fluttering above them." May, in return, didn't sound too sad to see him go: she was "a little surprised" to get his letter, and coolly accepted his decision. "If you are not able to provide the support we need to secure this deal in the interests of the United Kingdom, it is right that you should step down."
Do the Math | It's impossible to talk about British politics without a firm grasp of the arithmetic. To remove May, they need 159 of 316 Tories. To prompt a confidence vote in Parliament, they need 48. Rees-Mogg's European Research Group doesn't reveal membership numbers, but it has managed in the past to organize letters with more than 60 signatures. That suggests it might be able to initiate a confidence vote, but couldn't be sure of winning it. And if May survived, she could find herself strengthened – party rules forbid another challenge within a year. 
German Welcome | German industry groups praised May's plan to maintain strong U.K. links with the EU, while members of Chancellor Angela Merkel's governing coalition cautioned there's no breakthrough yet.
Who Cares? | The view from Brussels is that Davis's exit isn't a big deal and might even help talks progress, Ian Wishart reports.  
New Faces | May had a little reshuffle of her Cabinet last night. Jeremy Hunt, another future leadership candidate who has turned from pro-Remain to pro-Brexit, becomes Foreign Secretary. Matt Hancock, the man famous for creating an eponymous app, becomes Health Secretary. Jeremy Wright switches from Attorney General to Culture Secretary, and is replaced by Geoffrey Cox, a pro-Leave lawyer.
On the Markets | The pound fell for a second day amid the political turmoil. But at $1.3230, it has recouped some of the losses it sustained when Johnson's resignation was first announced.