Barclays Left Out a Fun Fact About Turkey's Finance Minister
(Bloomberg) -- Barclays released a note commenting on the new Turkish cabinet, and the Treasury and Finance minister in particular. Nothing unusual about that.
But there was something peculiar about this communique. In his seven-sentence biography of Berat Albayrak -- who was appointed Monday to the dual posting -- analyst Durukal Gun failed to mention that the newly minted minister is President Recep Tayyip Erdogan's son-in-law.
That tidbit was all financial markets seemed to care about. The lira plummeted to as low as 4.7487 relative to the U.S. dollar as traders feared this nepotism signaled Erdogan's desire to continue concentrating power and run easier monetary policy. Those fears appear to have been well-founded, as the president made another move against central bank autonomy on Tuesday.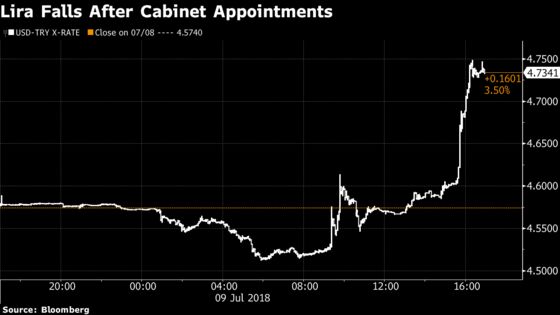 Gun, who is based in London, didn't immediately respond to questions about the substance of his note.