Airbus Softens Brexit Tone, Calls on EU to Go Easy on May
(Bloomberg) -- Airbus SE Chief Executive Officer Tom Enders called on the European Union to acknowledge the British government's new, softer negotiating stance toward Brexit, lending a measure of support to embattled Prime Minister Theresa May.
"The Chequers statement appears to show that HM Government are going in the right direction," Enders said at a German Chamber of Commerce event in London, according to a tweet posted late Monday by Toulouse, France-based Airbus. "We are not shy to request that Brussels & our other home countries are similarly pragmatic & fair."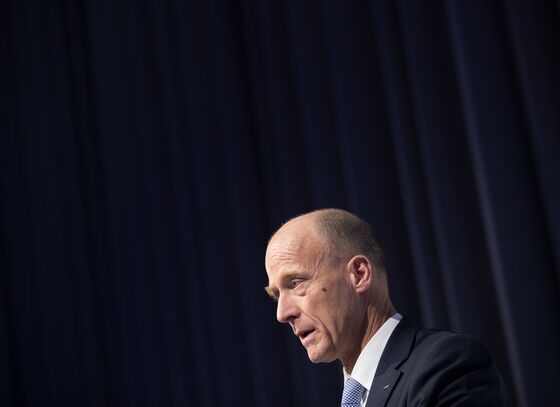 The message is more conciliatory than two weeks ago, when the European planemaker threatened to pull back on investment amid the rising risk of a so-called hard Brexit -- a warning followed by companies including BMW AG, Jaguar Land Rover and Rolls-Royce Holdings Plc. Since then, May unveiled a new proposal at her Chequers retreat that would keep Britain close to the EU on trade and regulations -- prompting a mutiny in her ranks that she's now trying to quell.
Just last week, Enders was ratcheting up criticism of the U.K. over its handling of the talks. May's administration has "no clue or consensus on how to execute Brexit without severe harm," Enders said at a briefing in London on July 6. The manufacturer has repeatedly warned about a risk of disruption, and a sidelining of the U.K. when it comes to future aerospace projects.
The U.K. is a major site for Airbus, where the company makes the wings for all its aircraft.
BMW was quick to echo Airbus's concerns last month, suggesting it would be forced to rethink production at four U.K. plants. Jaguar, which plans to move production of the Land Rover Discovery SUV to Slovakia next year, called for May to prevent "unnecessary friction" at the borders. The fourth warning came from jet-engine maker Rolls-Royce, which decided to shift approval for large civil jet engines from the U.K. to Germany. Rolls-Royce say the move is "precautionary and reversible" and depends on the Brexit outcome.
At May's country residence Chequers on Friday, she opted for a new negotiating stance to abide by EU trade regulations for goods, but not services, indicating that the U.K. was heading towards a 'soft' Brexit. Some Tory politicians publicly praised the change of direction over the weekend. But hardcore Brexiteers within the party felt betrayed, leading to the rapid resignation of Brexit Secretary David Davis and Foreign Secretary Boris Johnson in an unprecedented 48 hours. Davis's deputy, Steve Baker, and Junior Brexit minister Suella Braverman also resigned.
May appointed pro-Brexit Dominic Raab as the new Brexit Secretary and Jeremy Hunt as Foreign Secretary. The pound weathered the turmoil as fears that she could face a no-confidence vote began to subside.