These Are America's White-Collar Dreamers
(Bloomberg) -- Seventeen years later, Congress is still struggling with the debate over the fate of the Dreamers.
It started in 2001, with bipartisan legislation allowing children whose parents brought them to the U.S. illegally before they turned 16 to stay, go to school, work and eventually become citizens.
The bill, dubbed the Dream Act, never passed. The Obama administration's stopgap solution in 2012 was the Deferred Action for Childhood Arrivals program, known as DACA, giving Dreamers work permits for two-year stretches. President Donald Trump signed an order to end it; a federal judge in January ruled that it must be kept alive for current Dreamers, like those whose stories we tell here.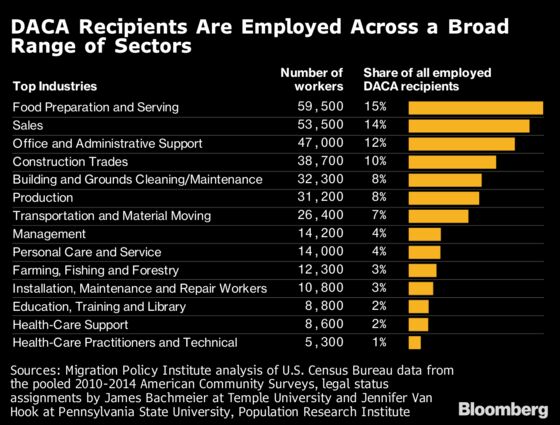 There are almost 690,000 of these young people in the U.S. The vast majority, according to government and nonprofit studies, are in the labor force or in school. Most with jobs work in the sorts of industries long associated with migrant labor: food preparation, construction, building maintenance. A small number, though, are climbing the corporate ladder. A survey by the liberal research group Center for American Progress in August 2017 found that at least 72 percent of the top 25 companies in the Fortune 500 employ Dreamers.
Irving Calderon, 26
IT analyst at General Motors Co.
He walked out of the Texas Department of Public Safety building in Austin in something of a trancelike state. Clutching his driver's license, he slid into his car. He sat there for several minutes, mesmerized. His name was on it. His address, too. He had to collect himself before he could start back to the University of Texas, where he was a sophomore. He couldn't believe he was holding in his hand an officially issued U.S. government document. From then on, he really felt like a Dreamer.
It was just a decade earlier, when he was 11, that he learned he was, as he understood it, illegal. His cousins, all U.S. citizens, were planning a trip to meet their grandparents in Mexico, and he wanted to go with them. His mom and dad had to tell him that was impossible, because they had crossed the border into California without papers seven months after he was born.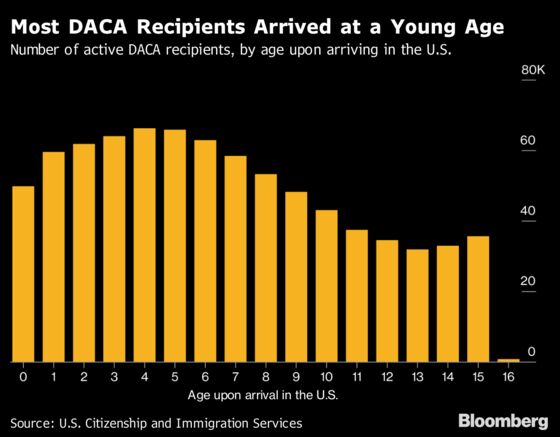 After that, he was always on edge, until his DACA moment. The year he got his license, he also scored an internship with the software company National Instruments Corp., fulfilling a requirement for his degree at UT's business school, where his major was managing information systems. Now he's full-time with GM in Austin. Without DACA, none of it would have happened. And without his salary, his aunt, who co-signed for his student loans, would have been on the line.
The thing about the program, he said, is that "you start to feel normal." Then every so often reality nudges in. "This is just a Band-Aid that can be ripped away in an instant, and everything that you worked for can be taken away."
What if he's deported? Friends and colleagues have offered places for him to hide out. He doesn't want to do that, though he can't imagine leaving the only country he has known. "That hasn't crossed my mind." Not yet.
Nathali Bertran, 25
Mechanical engineer at Honda Motor Co.
When she was a kid in Lima, she wanted to grow up to be an astronaut. It wasn't out of the realm of possibility: Carlos Noriega, the first native Peruvian to fly for NASA, had completed three spacewalks by the time she was 8. She moved to the U.S. the next year, after her mother and father lost high-paying professional jobs during a recession. They got into the U.S. on tourist visas and never left.
Her mom became a housekeeper, and her dad found work as a mechanic. The three of them shared a room at a relative's place until they could afford a one-bedroom apartment in Queens, N.Y. She was a stellar student at the Manhattan Center for Science and Mathematics and was accepted to aerospace programs at three private universities. But she said those were out of reach for someone who, without a Social Security number, was considered an international student and not eligible for most scholarships and financial-aid programs. She landed at City University of New York, to the bewilderment of friends and teachers, she said. They didn't know she was undocumented.
DACA came to her rescue. With only a temporary work permit, she knew going to the moon was out of the question, but she liked the idea of cars if rockets weren't on the agenda. She now designs Acura parts in Columbus, Ohio.
Her main concern if she's deported? Missing her little sister's high school graduation in 2020. "My family is here, my friends are here, everything I know is here." In Peru, "I don't know anybody."
Alex Medrano, 22
Personal banker at Wells Fargo & Co.
All these years later, he still remembers—vividly—the ants. They crawled up from his muddied feet when he stepped out of the rubber raft that had carried him, his mother and older sister across the Rio Grande. The insects bit his legs as he walked and walked, following the "coyote" the family had hired to help them avoid border-patrol agents. The journey took weeks, with detours and sleepless nights.
He was 10 then; six years later his DACA application was approved. Now he could legally hold down a job and help his mom. His first was at a Best Buy in Dallas, stocking the warehouse after school. His bosses suggested he open a checking account with Wells Fargo, which handled the retailer's direct deposits. The branch manager happened to be on the desk when Medrano showed up and was so impressed with the teenager that he was soon working as a part-time teller.
The promotions kept coming as he took business classes at the University of Texas at Arlington. He's thinking of switching his major to engineering.
He's philosophical about the repercussions of being kicked out of the country. Maybe, he said, "I'll take it as a chance to travel and learn about other cultures." A colleague has an apartment in Dubai and has offered it to him. What about Mexico? "If I have to go back there, I'll do the best I can. As a human being, that's all we can do."