Pound Slips as Resignations Raise Questions About May's Survival
(Bloomberg) -- The pound fell as U.K. Foreign Secretary Boris Johnson's resignation increased the risk that British Prime Minister Theresa May will face a leadership challenge.
Sterling reversed gains after Johnson, who was the face of the campaign to exit the European Union, followed Brexit Secretary David Davis in stepping down over disagreements about May's strategy for leaving the bloc. A move by lawmakers to try to oust the prime minister could lead the currency to fall as low as $1.25, strategists say.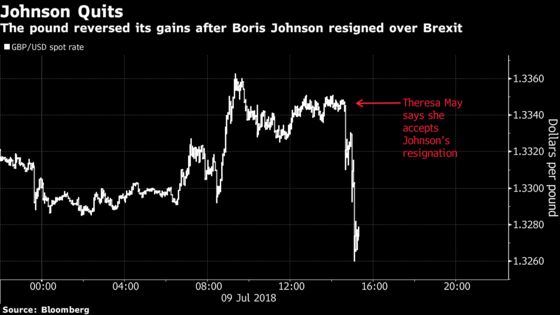 "The resignation of Johnson will add to market fears of a leadership challenge, in the process risking further U.K. political paralysis," said Jeremy Stretch, head of Group-of-10 currency strategy at Canadian Imperial Bank of Commerce. "Events of the last 24 hours suggest that more extreme Brexit conclusions are on the rise, suggesting sterling volatility should move appreciably higher."
The pound fell 0.3 percent to $1.3241 as of 4:40 p.m. in London, after advancing as much as 0.6 percent earlier in the day. It fell 0.3 percent against the euro to 88.71 pence.
Sterling had gained earlier Monday as the market judged the resignation of Brexit Secretary Davis opened the way for the prime minister to pursue a closer relationship with the EU. May told Parliament Monday that the country will be leaving the EU's single market and customs union, as she came under fire from some of her own lawmakers and the opposition.
Strategists said last week that the pound could fall as low as $1.25 on a leadership challenge, rallying as high as $1.34 on a Brexit strategy deal which also gains the backing of the EU.
With a threat to May's leadership now looking more likely following the resignation of two of her top team, the pound will be weighed down even as she clings on, according to CIBC's Stretch. It could slip as low as $1.3160, he said.
Options gauges of volatility on the pound against both the dollar and euro climbed after Johnson stepped down. Both Societe Generale SA and UniCredit SpA have recommended betting on higher volatility.