Boris Johnson Said to Plan to Stick With May to Fight for Brexit
(Bloomberg) -- Boris Johnson has decided not to quit as foreign secretary over U.K. Prime Minister Theresa May's soft Brexit plan because he wants to remain in Cabinet and fight for the divorce he wants, according to a person familiar with his thinking.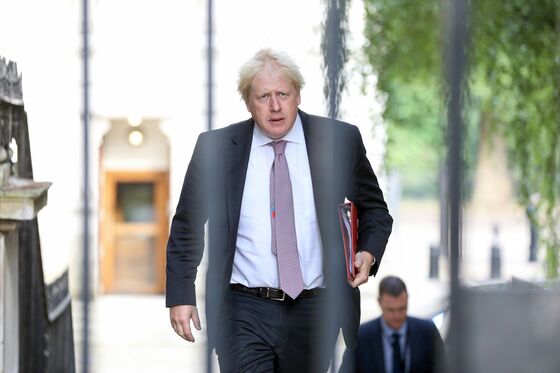 As the most prominent supporter of Brexit in the Cabinet, and as a vocal critic of May's vision for close ties with the European Union, Johnson might have been expected to walk out once May told ministers that they had to back her plans or leave. Brexit-supporting Conservative lawmakers privately questioned why he hadn't.
The reason, according to the person who spoke on condition of anonymity, is that Johnson believes May would have gone for an even closer relationship with the EU if he hadn't been making the case against it. He believes he will have to fight the euroskeptic cause even harder in the future, and that he's best placed to do that inside the Cabinet, the person said.
It's similar to the argument Johnson made two weeks ago when he explained why, despite having promised to fight with all his strength against a third runway at London's Heathrow Airport, he hadn't resigned once that became government policy. "My resignation would have achieved absolutely nothing," he said then, before avoiding a vote on the issue by traveling abroad.
The prime minister was emphatic on Friday that she would no longer tolerate the kind of open dissent she's seen from Johnson and others in the past year. It remains to be seen whether the foreign secretary will be less vocal.
The Sunday Times reported that Johnson used offensive language to describe May's proposals at the Cabinet meeting on Friday, before falling in line.
His decision -- and that of other Brexit-backers -- not to resign leaves Tory lawmakers who are critical of May's deal short of prominent champions. This doesn't mean they'll go down without a fight, though. On Saturday, they were circulating an 18-page critique of May's plan, which warned it could leave Britain in a "black hole Brexit," bound by EU rules but unable to influence them.