Soybeans Post Record Rally With Demand Gain Overshadowing Trade War
(Bloomberg) -- Soybean futures, which had been plummeting over the past month as the U.S. inched closer to a trade war with China, posted a record move higher on Friday as the promised tariffs were finally imposed.
While purchases have slowed from China, the world's biggest importer, American soybeans got so cheap that other countries have started to increase purchases, U.S. government data show.
Futures for November delivery climbed 4.5 percent to $8.945 a bushel on Chicago Board of Trade, the biggest gain since the contract began trading in late 2014. The day before, it had touched its lowest ever after tumbling 17 percent since the end of May. Soybeans are among the American goods targeted by Chinese tariffs after the U.S. implemented duties earlier in the day and President Donald Trump threatened more action.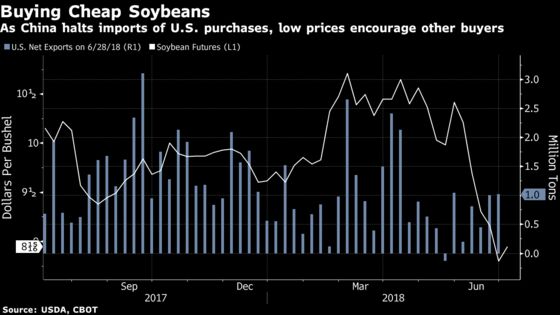 "U.S. prices are already at a huge discount to Brazilian soybeans, sending the rest of the world to our doorstep," Arlan Suderman, chief commodities economist at INTL FCStone in Kansas City, Missouri, said in a report. "Export demand is unseasonably strong from the rest of the world, which is taking advantage of the current fire sale in the oilseed market."
In the week ended June 28, net American exports more than doubled from a year earlier to 1.02 million tons, based on sales for the current marketing year and the next, according to the U.S. Department of Agriculture. Some amounts that were originally sold to China have been redirected to countries including Pakistan and Bangladesh, the USDA said.
China has been shifting to supplies from Brazil. Soybean premiums at Brazilian ports have surged in recent weeks on expectations that China will boost purchases.