Pound Investors Fear Currency Slide If May Leadership Challenged
(Bloomberg) -- It's not just Theresa May who's worried about being toppled.
Pound investors say the threat of Conservative party turmoil is one more reason to avoid the U.K. currency. Amid reports that the British Prime Minister faces ministerial resignations if she fails to achieve a solution to a Brexit deadlock, strategists warn sterling could fall as low as $1.25 if she is ousted in a leadership challenge.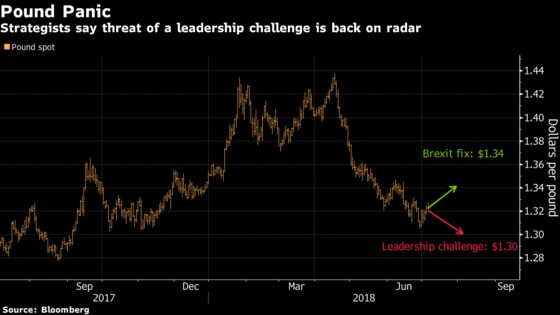 "The risk appears to have increased as the government is moving closer to making tough decisions on Brexit which could prove divisive," said Lee Hardman, a currency strategist at MUFG. "The lack of progress appears to have resulted in the market pricing in a higher risk premium into the pound."
May's top team of ministers is due to finalize the U.K. blueprint for its partnership with the European Union at a crunch meeting in her Chequers country residence Friday. The pound gained above $1.32 Friday following a report that ex-Prime Minister David Cameron had intervened to urge Foreign Secretary Boris Johnson to accept May's proposals, but a group of seven pro-Brexit ministers are said to be privately pushing for her to tear up the plans.
MUFG isn't the only bank preparing for the worst. Mizuho Bank Ltd.'s head of hedge fund sales, Neil Jones, sees the likelihood of an attempted ouster at 50 percent -- which would cause the U.K. currency to drop to at least $1.30. Rabobank's head of currency strategy Jane Foley sees it as a "perennial threat" but one which could come to a head this weekend.
With clarity on Brexit still proving elusive, the market also has to contend with the BOE's policy path. Carney may have struck an upbeat tone Thursday, saying he had "greater confidence" in the U.K. economy, but the Brexit outcome could be a swing factor for the central bank's outlook.
The lack of visibility around both key drivers "may just reinforce a lack of desire to engage with sterling," according to TD Securities' head of European currency strategy Ned Rumpeltin. Options show the market has been bearish on the pound for months, and the trend shows no sign of reversing.
Allianz Global Investors is short sterling, said Kacper Brzezniak, a fixed-income money manager. JP Morgan Asset Management's global market strategist Mike Bell said on Thursday that the bank had a small long position on the pound but that it was avoiding placing a big bet ahead of the prime minister's gathering.
If May manages to unite her cabinet behind a Brexit strategy which is also palatable to the EU, sterling could see a short-covering rally up to $1.34, according to Kenneth Broux, a strategist at Societe Generale SA.
On the other hand, under a worst-case scenario in which the prime minister is ousted by ardent Brexiteers and replaced with a hard Brexit candidate, sterling would fall to as low as $1.25, said Mizuho's Jones.