Mexico Stocks Rally as Capital Returns Post-AMLO Election
(Bloomberg) -- Money is pouring into Mexico, prompting hard-hit stocks to rally.
Mexican assets had been under pressure in the run-up to Sunday's presidential election. They've been rebounding as President-elect Andres Manuel Lopez Obrador, known as AMLO, sought to ease investors' concerns after he won more than half the vote.
Among the stocks that most benefited are those that saw sharp drops earlier in the year and look attractive for returning funds, Actinver SA analyst Enrique Mendoza said.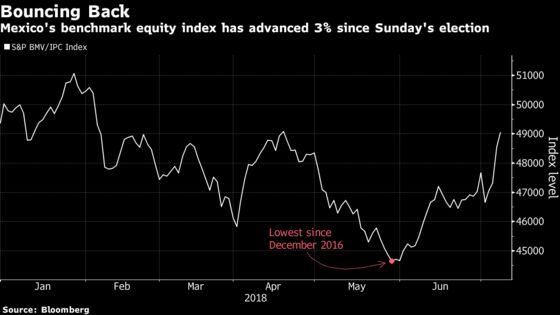 Low-cost airline Controladora Vuela Cia de Aviacion, or Volaris, saw shares fall the most in April since 2016 -- they are now up 15 percent over the past five days. Micro lender Gentera SAB, which in March fell to a five-year low, rose 12 percent this week. Banco Santander Mexico SA and Grupo Lala SAB increased 9.5 percent and 6.6 percent, respectively.
"Capital is returning to the stock exchange and it's picking names that had been too castigated," Mendoza said in an interview. "Gentera had been crashing and stabilized in the past few months, making for a very low valuation."
Earlier in the week, Mexican stocks were raised to overweight at Morgan Stanley from equal-weight as they look attractive in absolute and relative terms. The Mexican economy continues to expand at a moderate pace and the outlook for corporate earnings growth in 2018-2019 remains strong, analysts wrote in a note.
Volaris has also benefited from signs of strong demand. The company reported a 14 percent year-over-year increase in passenger traffic in June.
The S&P BMV/ICP benchmark index has gained 3 percent this week. It now trades at 15.9 times 12-month forward price-to-earnings, versus an average of 17.8 times for the last five years, according to data compiled by Bloomberg.