Mexico's AMLO Ditches Bodyguards to Foster Man-of-People Image
(Bloomberg) -- Five days after his election as Mexico's next president, Andres Manuel Lopez Obrador is already marking a contrast with the man he'll replace.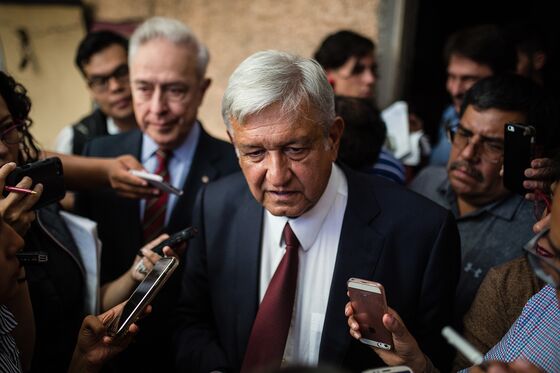 AMLO, as he's known, has held daily press conferences, taking questions shouted by reporters on everything from plans to invite Donald Trump to his inauguration to his intention to forgo living in the presidential compound of Los Pinos. President Enrique Pena Nieto rarely speaks with the press and takes questions even less often.
The incoming president has also declined to use bodyguards, saying he trusts the public and journalists to protect him in what has become one of the world's most dangerous countries. When reporters surround him on his arrival and departure from events, he asks only that they not push or step on each other, or him.
The press scrums are all part of Lopez Obrador's self-styled image as a man of the people with a spontaneous and folksy demeanor, said Alejandro Schtulmann, who runs the political-risk consultancy Empra in Mexico City. By contrast, when Pena Nieto appeared in public even before taking office in 2012, there were usually metal detectors and a phalanx of bodyguards to keep the public at arm's length.
"Lopez Obrador is a showman," Schtulmann said. "He likes to put the spotlight on himself. Pena Nieto was much more discrete."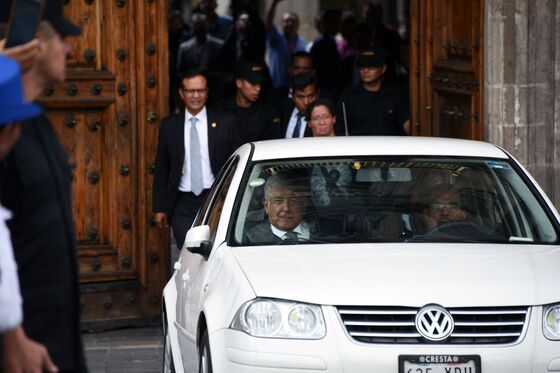 Lopez Obrador, the former mayor of Mexico City, arrived to a meeting with Pena Nieto on Tuesday at the national palace, a site that has served as the seat of power for Mexican rulers since the Aztec empire, in a white Volkswagen Jetta. The vehicle is more associated with the cheapest level of Uber service than the head of state of a G-20 nation.
AMLO will assume the presidency with much more popular support than Pena Nieto, having won 53 percent of the vote -- the biggest mandate since the opening up of Mexico's political system. AMLO more than doubled the 22 percent of the runner up, Ricardo Anaya. In 2012, Pena Nieto won with 38 percent support, less than seven percentage points more than Lopez Obrador, who was then making his second run at the presidency.
Still, AMLO may be forced to change his style, said Veronica Ortiz, a political analyst who co-hosts a show on Mexico's non-partisan Congress channel. Lopez Obrador has announced that from September to November he will tour the country to thank the voters who elected him. Continuing to decline protection from bodyguards would just invite unnecessary risks, she said.
"I would hope that he'll take into account the advice of security specialists," Ortiz said. "You're no longer talking about someone who's a candidate or citizen, but the embodiment of a nation."