Time Runs Out For U.S. Soybean Ship As China Imposes Tariffs
(Bloomberg) -- A ship laden with U.S. soybeans that was steaming toward northern China looks to have lost its race to arrive before import duties are imposed.
Retaliatory tariffs on U.S. goods have now taken effect after the U.S. implemented a raft of duties earlier in the day, China's foreign ministry said at a press conference in Beijing on Friday afternoon. The Chinese government had previously said it will impose a 25 percent levy on shipments on soybeans among other U.S. agricultural produce and goods including automobiles.
The bulk carrier Peak Pegasus, which had been accelerating earlier in the day as it raced to the port of Dalian, was about 25 miles away from its destination as of 4:25 p.m. local time and slowing down, according to ship-tracking data. It's scheduled to arrive at about 5 p.m., the data show.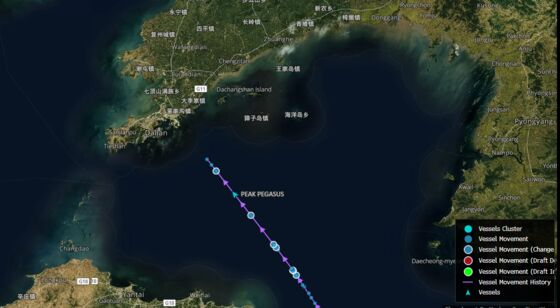 The U.S. fired the first shot in the deepening trade war, imposing tariffs on $34 billion of Chinese imports from 12:01 a.m. Friday in Washington, just after midday in China. Soybeans have been a key battleground in escalating trade tensions between the two countries as China is the world's biggest importer and America's largest customer in trade worth $14 billion last year.
The Asian country is expected to cancel or re-sell U.S. soybeans due to the additional duties and purchased 19 cargoes from Brazil last week. China typically imports from Brazil at this time of year before switching to the U.S., spurring concerns about a deficit in the fourth quarter.