Canada's Labor Force Grows Most in 6 Years, Raising Jobless Rate
(Bloomberg) -- Canada's tight jobs market is beginning to bring more workers into the labor force, a trend that if sustained may moderate a recent pick up in wage pressures.
The labor force expanded by 75,600 in June, the biggest one-month increase in six years, Statistics Canada reported Friday from Ottawa. With less than half of new job seekers finding work, the labor force increase boosted the unemployment rate to an eight-month high of 6 percent. Employment jumped by 31,800 last month.
The labor force growth is likely to be welcomed by the Bank of Canada, which has been arguing that pockets of untapped market slack remain that could limit wage and price pressures. That belief has been one justification they've been using for being cautious on rate hikes. Up until last month, the country's labor force had been little changed through 2018.
Canada has been producing some of the strongest pay gains in years and that trend continued in June with average hourly wages up 3.6 percent from a year earlier. While down from 3.9 percent in May, it's still one of the highest readings since the 2008-2009 recession.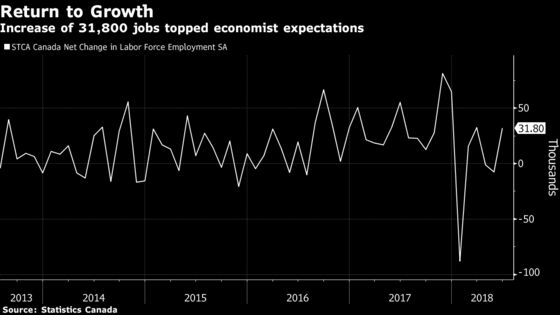 The employment increase last month beat economist expectations for a 20,000 gain and was the second highest so far in a year where job creation has been sluggish. The breakdown of the gains however was less rosy -- centered around self- employment, part-time work and the public sector. Economists surveyed by Bloomberg News had projected the unemployment rate would remain unchanged at 5.8 percent, which matched the lowest on record.
Other Employment Highlights

The labor force participation rate increased to 65.5 percent in June, from 65.3 percent a month earlier, reflecting in large part higher youth participation
The number of people aged 15 to 24 in the labor force increased by 27,400, raising the participation rate for that group to 64 percent from 63.4 percent
The monthly employment gain was driven by part-time workers, which were 22,700 higher for the month. Full-time employment was up by 9,100
By sector, employment in goods producing industries was up by 46,600, the highest since April 2012, led by construction and manufacturing
Service producing industries lost 14,700 jobs during the month
Self-employment was up by 22,000, with employment in the public sector rising by 11,800. Private sector employment was down by 2,000